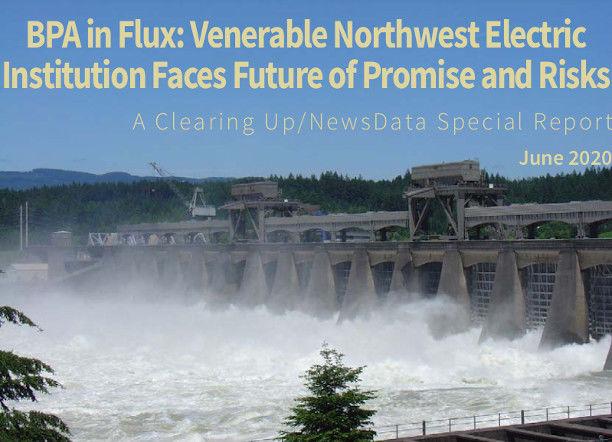 BPA in Flux:  Venerable Northwest Electric Institution Faces Future of Promise and Risks
A Clearing Up/NewsData Special Report
June 2020
Bonneville Power Administration is a venerable Northwest institution, dating to 1937 and its formation by Congress to sell and deliver power from the new Bonneville Dam on the Columbia River 40 miles east of Portland.
Today, more than 80 years later, BPA's portfolio and presence are vastly expanded from those New Deal origins, although its basic mission remains the same.
The federal power marketing administration sells about one-third of the electricity used in the Northwest, mainly through its utility customers in Washington, Oregon, Idaho and western Montana. It markets power from 31 federal hydro projects, as well as a nuclear plant. BPA also owns and operates about three-fourths of the region's high-voltage transmission system. And it runs large-scale fish and wildlife and energy-efficiency initiatives.
By any measure, Bonneville is a central fixture in the Northwest electric system, and a major influence on the broader region.
As it enters the 2020s, BPA faces challenges and opportunities that will help shape its future beyond its 100th anniversary in 2037."
So begins this in-depth special report on Bonneville Power Administration, the Northwest's single-most important power and transmission entity.
Written by the knowledgeable energy journalists of Clearing Up, this 40-page report dives deep into crucial BPA issues including competitiveness, changing energy landscape, finances, rates, long-term contracts, transmission and power resources, climate-change impacts, fish and wildlife initiatives, and the Columbia River Treaty.
It also features many perspectives from BPA customer utilities and other regional energy stakeholders.
This exclusive copyrighted report is available to non-Clearing Up/NewsData subscribers at the following rates:
$99 for a single copy;
$149 for two copies;
$199 for unlimited copies within an organization.
Each report purchase also includes a free no-obligation two-month trial subscription to Clearing Up, the Northwest's premier source of news and information on the region's electric and natural gas industries.
In addition, report purchasers are eligible for a 20-percent discount for the first year of a paid subscription to Clearing Up.
To order this special report, or for more information, please contact Mark Ohrenschall, NewsData publisher/editor-in-chief: marko@newsdata.com; 206-285-4848 x. 204.