A federal trade court issued a preliminary injunction on Dec. 5 blocking the Trump administration's withdrawal of a tariff exemption for imported bifacial solar-photovoltaic panels.
Judge Gary Katzmann of the U.S. Court of International Trade ruled that the administration failed to follow procedural requirements in ordering withdrawal of an exclusion that exempted bifacial panels from the tariffs on crystalline-silicon PV products that President Donald Trump imposed in 2018.
Abigail Ross Hopper, CEO of the Solar Energy Industries Association, hailed the ruling as "an important, temporary reprieve."
The ruling was a victory for plaintiffs Invenergy Renewables, Clearway Energy Group, EDF Renewables and AES Distributed Energy, along with SEIA. The plaintiffs sued after the U.S. Trade Representative on Oct. 4 eliminated an exemption that the trade office had approved the previous June.
In his decision, Katzmann ruled that the trade office failed to follow notice and comment requirements spelled out in the Administrative Procedures Act.
The trade office determined the exemption would "likely result in significant increases in imports of bifacial panels, and that such panels likely will compete with domestically produced monofacial and bifacial [crystalline-silicon PV] products in the U.S. market."
In a report published Sept. 19, Wood Mackenzie projected a growing market for bifacial solar equipment. The research and consulting firm said worldwide installations are projected to double by the end of this year, to 5,420 MW, bringing global bifacial capacity to more than 8,200 MW.
SEIA Report Slams Tariffs
The Trump administration's tariffs on crystalline-silicon PV cells and modules have resulted in 10.5 GW of "lost solar deployment" in the U.S., the Solar Energy Industries Association said in a report released Dec. 3.
The report was released two days before the U.S. International Trade Commission held a hearing to review the impact of the tariffs.
The SEIA report said the tariffs, which Trump imposed in 2018, will reduce solar employment by 62,000 jobs in the 2017-2021 period and lower solar investment by $19 billion. The four-year tariffs started at 30 percent and phase down 5 percent each year.
Peter Navarro, Trump's trade advisor, denounced the report as "fake news," according to a Reuters report. In response to Navarro, SEIA CEO Abigail Ross Hopper invited him to attend a SEIA conference "to meet some of the 242,000 Americans who work in this great industry."
SEIA said it used a National Renewable Energy Laboratory economic model to estimate job losses.
Panel Moves Pumped-Storage Bill
The House Natural Resources Committee on Dec. 5 waved through legislation, HR 537, clarifying that the Bureau of Reclamation would hold exclusive authority to grant lease-of-power privileges for pumped-storage projects using more than one bureau reservoir.
Similar legislation, S. 1751, sponsored by Sen. Maria Cantwell (D-Wash.), is pending on the Senate floor, following Oct. 23 approval by the Energy and Natural Resources Committee.
The House committee approved an amended bill with language similar to the Senate legislation aimed at addressing concerns raised by the Confederated Tribes of the Colville Reservation and the Spokane Tribe in connection with permitting of the proposed 500-MW Banks Lake pumped-storage project, which would use both Banks Lake and Lake Roosevelt.
Under current law, the project developers would need a FERC license for the Banks Lake portion of the project and a bureau lease-of-power privilege for the Lake Roosevelt portion. FERC last year reinstated a preliminary permit for Banks Lake and extended it for two additional years.
According to the Energy and Natural Resources Committee report for S. 1751, "the tribes maintain that they have dedicated significant resources to the [FERC] process with the expectation that FERC's dispute resolution process, the Federal Power Act's mandatory conditioning authority for the Department of the Interior, and state and federal fish and wildlife recommendations would be available."
The sponsor of HR 537, Rep. Doug Lamborn (R-Colo.), agreed to an amendment that would block a lease-of-power privilege for the Banks Lake project unless the developer and the tribes enter into a "study plan agreement" requiring the developer, Columbia Basin Hydropower, to carry out studies requested in submissions to FERC. Under the agreement, the developer also would be required to study the project's potential economic impacts on the tribes, including payments received under the Grand Coulee Dam Settlement Act of 1994.
In addition, under the amended bill, bureau approval of the project would have to include conditions safeguarding against interference with tribal hunting, fishing and boating rights.
Groups File Pro, Con Comments on PURPA
Electric-power groups and companies on Dec. 3 filed arguments for and against FERC's proposal to revamp implementation of the Public Utility Regulatory Policies Act.
Utilities and utility groups said changes in the industry since the law's enactment in 1978 warrant revisions. They argued that fixed-price contracts for PURPA qualifying facilities drive up electricity costs.
On the other hand, independent power producers argued that the changes would undermine the law's purpose to spur competition in power generation.
In its filing, Idaho Power said PURPA's impacts on its system include "large waves of uncontrolled PURPA development" as well as "very high levels" of intermittent generation, "attempts to lock in stale, outdated and inflated avoided cost rates," and inability to adjust avoided-cost rates in line with market changes.
Portland General Electric's filing said state policies and falling costs are driving renewable-energy development, not PURPA, which requires utilities to buy power at avoided costs from QF renewable-energy and cogeneration power plants.
PGE said PURPA has forced it to buy power from QFs at above-market rates. The filing said that if all contracted and proposed QFs came on line and sold power to PGE at "their established avoided-cost rate, the net result would be a 4 percent increase" in prices for the utility's customers.
However, the Electric Power Supply Association, a trade group for merchant generators, argued that "eliminating the option for QFs to obtain long-term contracts with fixed energy prices . . . will make it materially more difficult to finance the development of QFs" outside organized wholesale power markets.
The group noted that price forecasting errors apply to both QFs and utility-owned generation. "Even if cheaper sources of power become available in the future, the utility will still recover all of the costs associated with its generation," the group said.
Industrial Energy Consumers of America called on FERC to adopt a "targeted approach" to PURPA implementation reform. The group argued that industries rely on cogeneration and small power-production QFs to "self-supply their electricity requirements" in order to reduce costs and remain competitive in global markets.
"The commission has failed to identify industrial QFs as a specific source of causation of higher electric rates," the industrial consumer group's filing said.
FERC's proposal, released Sept. 19, would allow states to require energy rates in QF power-sales contracts to vary with the purchasing utility's avoided costs at the time of energy delivery.
Also, the proposal would revise regulations for ending utility purchase obligations for renewable energy by lowering from 20 MW to 1 MW the presumption that plants do not have nondiscriminatory market access. The 20-MW threshold would remain for cogeneration.
In addition, the proposal would narrow the "one-mile" rule for determining whether QFs are one or multiple facilities for QF contract purposes.
In a joint filing, the American Public Power Association and the Large Public Power Council said that "the commission's proposed reliance on market forces as a touchstone for its proposed reform is well-supported." The groups said the proposed revision of the "one-mile rule" would "likely eliminate most of the gaming concerns that have arisen under the current regulations while ensuring adequate regulatory certainty for genuine small power production QFs."
Senate Confirms Brouillette for DOE
Dan Brouillette will be sworn in as secretary of the Energy Department at "a later date" following the Senate's Dec. 2 confirmation of his nomination, DOE said.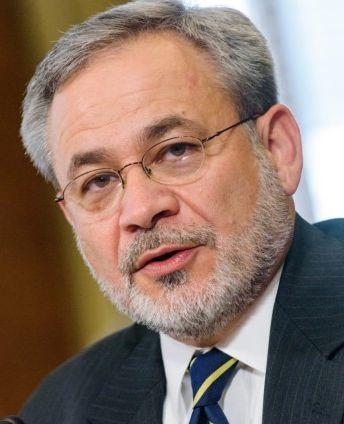 He is currently serving as acting secretary following Rick Perry's resignation, which took effect Dec. 1. Brouillette has been deputy secretary, DOE's No. 2 executive, since 2017.
Brouillette's nomination sailed through the Senate on a bipartisan 70-15 vote. His nomination drew broad backing from Western senators, although Oregon Democrats Ron Wyden and Jeff Merkley and Nevada Democrats Catherine Cortez Masto and Jacky Rosen voted against it.
"From energy security to technological innovation, Dan's leadership will be critical for the Department of Energy and for our country," Sen. Lisa Murkowski (R-Alaska), chairman of the Senate Energy and Natural Resources Committee, said in a statement.
Court Orders Finalized Efficiency Standards
A federal appeals court on Dec. 2 ordered the Energy Department to finalize four energy-efficiency standards, a mandate to comply with the court's Oct. 10 decision upholding a lower-court ruling ordering publication of the standards in the Federal Register.
Publication in the Federal Register is the final step for making regulations legally enforceable.
The standards, finalized in December 2016 during the closing days of the Obama administration, cover portable air conditioners, uninterruptible power supplies, air compressors and commercial packaged boilers.
The Oct. 10 decision was handed down by a three-judge panel of the U.S. Court of Appeals for the 9th Circuit, which ruled in litigation against DOE filed by environmental and consumer organizations, 12 states, the District of Columbia, the California Energy Commission and New York City.
Pelosi Leads Congressional Group in Madrid
House Speaker Nancy Pelosi (D-Calif.) said the "United States is still in" at the Dec. 2 opening of the United Nations' Madrid climate conference.
"Our delegation is here to send a message that Congress' commitment to taking action on the climate crisis is ironclad," Pelosi said at a press conference.
Pelosi led a delegation of 15 House and Senate Democrats to the conference, including five House committee and subcommittee chairs. The conference is negotiating details for implementing the 2015 Paris climate agreement.
The State Department last month formally initiated U.S. withdrawal from the Paris accord. The pullout would take effect next Nov. 4, the day after the 2020 presidential and congressional elections.
The State Department sent a group of midlevel officials to the conference, led by Marcia Bernicat, principal deputy assistant secretary of state for oceans and international environmental and scientific affairs.
The conference is taking place against the backdrop of a "bleak" U.N. report released Nov. 26 that warned countries have failed to do enough to reduce greenhouse gas emissions.
Meanwhile, 285 companies have set targets for reducing GHG emissions in line with the Paris agreement's goal of keeping global temperature increases "well below" 2 degrees Celsius above preindustrial levels.
The commitments were announced by the Science Based Targets initiative, spearheaded by the Carbon Disclosure Project, U.N. Global Compact, World Resources Institute and World Wide Fund for Nature.
The companies committed to reducing their emissions by a collective 35 percent from their combined current total of more than 752 million metric tons of carbon dioxide-equivalent, the group said.
The 285 companies include Microsoft, Nike, Salesforce and Hewlett Packard Enterprise.
House Report Spotlights Perry Ukraine Role
Former Energy Secretary Rick Perry knew about White House plans to condition a White House meeting for Ukrainian President Volodymyr Zelensky on the Ukrainian leader's greenlighting "political investigations beneficial to President Trump," the House Select Intelligence Committee's draft impeachment inquiry report, released Dec. 3, said.
Perry was informed in emails sent by Gordon Sondland, the U.S. ambassador to the European Union, the report said, quoting Sondland's Nov. 20 testimony to the committee.
The report said Perry and other high-level administration officials "had knowledge of, and in some cases facilitated and furthered the president's scheme and withheld information about the scheme from the Congress and the American public."
Perry has denied that he heard mention of former Vice President Joe Biden, his son Hunter, or the Burisma energy company, on whose board Hunter Biden sat, in connection with his work on Ukraine issues.
DOE on Nov. 20 released a statement disputing Sondland's testimony about Perry's interactions with Rudy Giuliani, Trump's personal attorney, in connection with Ukraine.
A State Department official testified to the intelligence committee that he didn't recall any conversation with Perry that touched on the Bidens or Burisma.
Philip Reeker, the State Department's acting assistant secretary for European and Eurasian affairs, said his conversations with Perry involved the "Three Seas initiative" to help Central European countries diversify their energy supplies.
Reeker's Oct. 26 testimony was released Nov. 26 by the committee.
Court Rejects Changing CPP Case Timing
A federal appeals court on Nov. 22 rejected competing motions to speed consideration of litigation challenging repeal and replacement of the Clean Power Plan and to hold the litigation in abeyance.
The U.S. Court of Appeals for the D.C. Circuit rejected the Environmental Protection Agency's motion to expedite consideration. At the same time, the court denied a motion by states and environmental organizations challenging repeal and replacement to put the case on ice until EPA finalizes a proposed rulemaking revising New Source Review.
EPA on June 19 finalized a rule repealing the Clean Power Plan and replacing it with the Affordable Clean Energy rule. Nearly two dozen states, 12 environmental groups and two public-health organizations filed suits with the appeals court challenging the rule. Three industry organizations also went to court to challenge EPA's authority to regulate carbon dioxide emissions under the ACE rule.
EPA has proposed revising New Source Review for power plants. Under the revision, the basis for determining whether a plant modification triggers NSR permitting and pollution-control requirements would be changed from annual to hourly emissions tests. Under the Clean Air Act, plants that make major modifications that result in significant emissions increases are subject to NSR requirements.
Proponents of the change argue that NSR requirements deter plants from making efficiency improvements, while opponents argue that the revision would allow older coal-fired power plants to avoid upgrading emissions controls.
EPA Data Rule Worries Science Editors
Six editors of science journals on Nov. 26 raised concerns in a joint statement about EPA's proposed rule that would limit the scope of scientific studies considered for drafting regulations to research in which underlying data and models are disclosed for independent scrutiny.
The joint statement was released by editors of the Science journals group, as well as editors of Nature, Public Library of Science journals, Proceedings of the National Academy of Sciences, Cell Press and The Lancet.
"Discounting evidence from the decision-making process on the basis that some data are confidential runs counter to the EPA stated mission 'to reduce environmental risks . . . based on the best available scientific information,'" the statement said.
The editors raised concerns about how the rule would apply to updates of current regulations affecting air and water quality. An EPA official indicated in Nov. 13 House testimony that the rule would not be applied retroactively.
The editors noted, however, that "the standard could apply when a regulation is updated; thus, foundational science from years past-research on air quality and asthma, for example, or water quality and human health—could be deemed by the EPA to be insufficient for informing our most significant public health issues. That would be a catastrophe."
EPA on Nov. 8 submitted the proposed rule to the White House for review, a step before finalization.
Jennifer Orme-Zavaleta, EPA's principal deputy assistant administrator for science, testified to the House Science, Space and Technology Committee at a Nov. 13 hearing that research transparency is important for ensuring that regulations are backed by science that can stand up to scrutiny.
EPA has dismissed as "not true" allegations that the rule would require disclosure of personal medical information.
However, in their statement, the editors warned that "anonymized personal data can be subject to re-identification."
Ruckelshaus Legacy Draws Praise
EPA chief Andrew Wheeler praised the legacy of William Ruckelshaus, the agency's first administrator, who died at his Medina, Wash., home on Nov. 27.
Wheeler said Ruckelshaus "led the agency during a time when the first federal environmental statutes were enacted and set the original example for all subsequent EPA administrators to follow."
Rep. Eddie Bernice Johnson (D-Texas), chair of the House Science, Space, and Technology Committee, said Ruckelshaus "never stopped believing in the mission of the EPA, to protect public health and the environment, and that it should be a bipartisan endeavor. He will be sorely missed."
Earlier this year, Ruckelshaus joined six other former EPA administrators in signing a letter to House Oversight and Reform Committee leaders offering their assistance in overseeing the agency.
Ruckelshaus headed EPA from 1970 to 1973, then returned for a second stint as administrator from 1983 to 1985. He led the agency when it implemented its first regulations under the Clean Air Act of 1970, including ambient air-quality standards.