The Trump administration's "Waters of the U.S." rule took effect June 22, except in Colorado, after a federal court denied a preliminary injunction sought by California and 16 other states.
A federal judge in Colorado on June 19 granted an injunction blocking the rule's implementation in that state, the same day as the injunction request was rejected by Judge Richard Seeborg of the U.S. District Court for the Northern District of California.
Seeborg said the term "navigable waters" is "indisputably ambiguous," which he said compelled the court to apply the "Chevron deference" doctrine, under which courts defer to agency interpretations of ambiguous statutes as long as courts find them reasonable.
Seeborg said "the court's narrow role" was to determine whether the rule, finalized April 21, complied with the Administrative Procedure Act. He said the Environmental Protection Agency and the U.S. Army Corps of Engineers adequately explained the basis for adopting the rule.
He indicated, however, that he sympathized with the states' argument faulting the rule's potential environmental impacts.
"Were the court tasked with the question of whether the new rule represents wise environmental policy or the best approach to protecting water resources that could be supported by scientific data, the result might be different," Seeborg wrote.
Meanwhile, U.S. District Judge William Martinez of the Colorado District said the state "advances an unusual and partly self-contradictory theory of harm, but Colorado has nonetheless satisfied the elements required to obtain preliminary relief."
Martinez said if the court allowed the waters rule to take effect but invalidated it later, "it would likely create unnecessary confusion among the regulated community about what standard really applies."
The waters rule, which replaces a regulation the Obama administration adopted in 2015, narrows Clean Water Act protection to four categories of water bodies, including territorial seas and "traditionally navigable" water bodies such as rivers and large lakes; perennial and intermittent tributaries; lakes and ponds if they contribute surface flows to jurisdictional waters "in a typical year"; and wetlands adjacent to jurisdictional waters.
In their motion for an injunction in Seeborg's court, state attorneys general said the waters rule "is both legally incorrect and unsupported by the record." In their May 1 suit seeking to overturn the rule, the 17 states alleged that it ignores the "chemical and biological connectivity of waters."
Colorado is not a party to that suit. Meanwhile, litigation against the rule filed April 29 by eight environmental organizations is pending in U.S. District Court for the Massachusetts District.
Seeborg rejected the states' argument that dissents and a concurrence from the Supreme Court's 2006 decision on the Clean Water Act's reach should be the basis for finding the waters rule violated the law. Justices decided the case, Rapanos v. United States, by a four-vote plurality.
"In the absence of precedent construing what must [emphasis in original] be included as 'waters of the United States,' plaintiffs are left with little more than policy arguments that the narrowness of the 2020 rule serves poorly to carry out the objectives of the [Clean Water Act]. As compelling as those arguments may be, they do not provide a basis for a court to substitute its judgment for the policy choices of the agency," Seeborg wrote.
DOJ Official Says Car Probe Not 'In Good Faith'
A career Justice Department attorney said an antitrust investigation of four automakers' greenhouse gas emissions-reduction agreement with California "didn't appear to be in good faith."
John Elias, acting chief of staff to the assistant attorney general in charge of DOJ's antitrust division, told a House Judiciary Committee hearing that the division ordered the investigation Aug. 22, a day after President Donald Trump sent tweets criticizing the automakers. Elias said he came forward as a whistleblower to testify on what he called an abuse of the department's authority.
In response to questions from Rep. Zoe Lofgren (D-Calif.) on whether the antitrust probe was "an effort to muscle the automobile companies into not dealing with California," Elias said he didn't believe "there was a proper basis to actually go forward with an investigation."
The probe was closed down in February without any finding of wrongdoing by the automakers, Elias said in response to questions from Rep. David Cicilline (D-R.I.).
Elias said the automakers would have had strong legal defenses against allegations of an antitrust violation. In his prepared testimony, Elias said department career staff had little time to carry out preliminary legwork he said is typical in advance of launching a large-scale antitrust probe.
"Ordinarily, decisions of import, here an investigation of a $630-billion-a-year automobile market, would take time and care to evaluate, especially when the action would face defenses," he said.
Career antitrust staff saw "very obvious defenses" the automakers would have raised, Elias said. "You really have to twist things around to get around those, so [the investigation] didn't appear to be in good faith, no," he said in response to questions from Rep. Hank Johnson (D-Ga.).
BMW, Ford, Honda and Volkswagen last year reached an agreement with California to build cars achieving year-over-year increases in tailpipe GHG emissions limits at a nationwide annual average of 3.7 percent, from model years 2022 through 2026.
In September, the EPA approved a rule barring California from setting its own tailpipe GHG emissions limits. On March 31, EPA and the National Highway Traffic Safety Administration finalized rules mandating 1.5-percent annual increases in emissions limits and fuel-economy improvements in model years 2021 to 2026.
Committee Republicans criticized the hearing as partisan. Rep. Steve Chabot (R-Ohio) said Attorney General William Barr is "restoring integrity and honor" to the Justice Department.
House to Vote on Lands Bill in Late July
The House will vote in late July on legislation requiring $900 million per year deposited into the Land and Water Conservation Fund from offshore energy revenues to be available permanently for the fund's land-acquisition, conservation and outdoor-recreation purposes.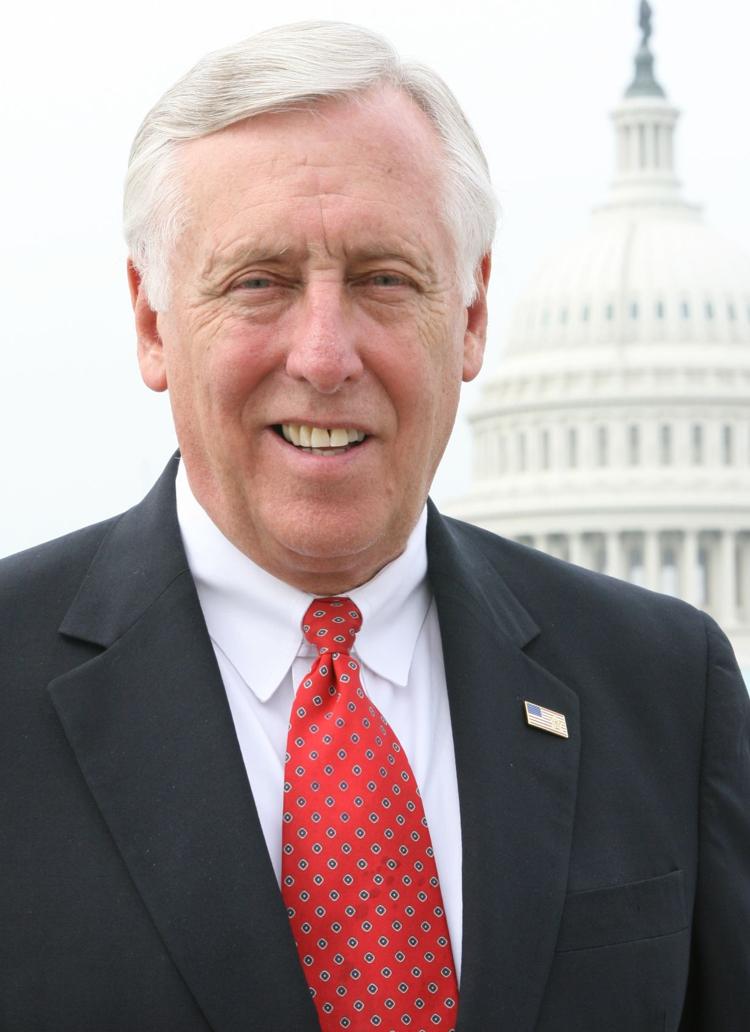 House Majority Leader Steny Hoyer (D-Md.) indicated Republican lawmakers opposed voting on the bill under rules suspension, under which amendments from the floor would not be permitted but a two-thirds vote would be required for final passage. The House uses the suspension procedure to speed approval of noncontroversial legislation.
Hoyer said he was confident the House would pass the bill with broad, bipartisan support and send it on to Trump for his signature. The Senate on June 17 passed the legislation, HR 1957, on a 73-25 vote.
The bill would eliminate the annual appropriations requirement in current law for spending LWCF funds. In addition, the bill would dedicate revenues the Treasury Department collects from federal onshore and offshore energy production for deferred maintenance on national parks and other federal lands. Up to $1.9 billion per year in fiscal years 2021 through 2025 would be deposited into the National Park Service and Public Lands Legacy Restoration Fund, which the bill would establish.
FERC Paper Floats Cyber Incentives
Transmission investment incentives could be employed to encourage utilities to install grid cybersecurity measures that exceed mandatory standards, according to a FERC briefing paper released June 19.
The paper lays out incentive options for utilities to beef up system security by, for example, bringing bulk electric cybersystems classified as "low-impact" up to standards applied to "medium-impact" systems.
Another approach, the paper said, would be providing incentives for investments that follow the National Institute for Standards and Technology's voluntary framework for integrating cybersecurity into organizational risk management. "This approach could allow incentives to be applied to more facilities" beyond those in the bulk electric system covered by FERC-approved mandatory standards, the paper says.
Incentives could encourage system operators to keep up with rapidly evolving cybersecurity threats that outrun the standards-development process.
"It can take many months for a standard to be developed, and once approved, it may be several more months or years before fully implemented and enforceable. Since cybersecurity threats can adapt and spread quickly, attackers can use sophisticated methods to exploit the interdependency of interconnected networks and equipment and target facilities, some of which may not be covered under the standards," the paper says.
In addition, the paper says, "the standards development process, while inclusive and deliberative, is also public, potentially providing information to adversarial entities regarding limits and preferred approaches to implementation."
House Leaders Float $1.5-Trillion Infrastructure Bill
House Democratic leaders released a sweeping, $1.5-trillion infrastructure package on June 22 that includes $70 billion for grid improvements and extension of tax credits for renewable resources and energy efficiency.
House Speaker Nancy Pelosi (D-Calif.) vowed at a June 18 news conference to bring the bill to the floor for a vote before the Fourth of July recess.
Pelosi and House committee leaders spoke at a news conference on the legislation, HR 2, which bundles together bills authorizing spending on energy, transportation, water facilities, broadband, health, schools, housing and parks.
"There's never been a better time for us to go big, to think big, as the head of the Fed has said to us. Think big," Pelosi said. She acknowledged, however, that the bill would face dim prospects in the Senate.
Rep. Richard Neal (D-Mass.), chairman of the House Ways and Means Committee, said at the news conference that a mix of bonds and borrowing could be used to pay for the legislation, noting also that Trump has talked of borrowing $2 trillion for building infrastructure.
"On the revenue side, we're open to some discussions and negotiations," Neal said.
The legislation would extend tax incentives sought by renewable-energy industries. The 30-percent solar investment tax credit would be extended until 2025 before phasing down to 10 percent for commercial projects and zero for residential projects in 2028. Under current law, the credit is due to phase down to 10 percent for commercial projects and zero for residential by 2022.
The production tax credit for wind, due to phase out after this year, would be increased from 40 percent to 60 percent of its authorized value from 2021 to 2025.
Tom Kiernan, CEO of the American Wind Energy Association, said the bill "puts the wind industry a step closer to tax-policy parity with other energy sources."
The bill also would extend tax credits for residential energy-efficiency measures and the commercial efficiency tax deduction through 2025. The commercial deduction cap would be expanded from $1.80 to $3 per square foot.
Leaders of the Ways and Means Committee on June 25 introduced separate discussion-draft legislation that contains the renewable-energy and efficiency tax provisions.
Rep. Frank Pallone (D-N.J.), chairman of the House Energy and Commerce Committee, said HR 2 would authorize $70 billion for clean-energy projects.
"This investment will upgrade the electric grid to accommodate more renewable energy, to make the grid more resilient, facilitate the deployment of sustainable infrastructure projects around the country, and invest in energy efficiencies," Pallone said at the news conference.
From fiscal years 2021 through 2025, the bill would authorize $3.5 billion for grid-resilience projects, $50 million for transformer rebates, $875 million for energy storage research, and $25 million for energy storage and microgrid technical assistance for rural electric cooperatives.
In addition, the bill would authorize $1.25 billion over five years for a Department of Energy grant program to repair leaks in gas distribution lines.
Also, the bill would reauthorize incentives for hydropower projects to install production and efficiency improvements.
Energy-efficiency program authorizations in the bill include $500 million over five years for retrofitting public buildings.
HR 2 incorporates the House Transportation and Infrastructure Committee's transportation bill, which would authorize $350 million per year in fiscal years 2022 through 2025 for electric-vehicle charging stations.
The bill would amend the Public Utility Regulatory Policies Act to require states to consider authorizing utility recovery of investments in EV charging networks.
Rep. Peter DeFazio (D-Ore.), the transportation panel chairman, said there will be "tremendous investment in electrification and other carbon-neutral fuels."
"Those who don't believe in climate change, tough luck. We're going to deal with it," DeFazio said.
Sen. John Barrasso (R-Wyo.), chairman of the Senate Environment and Public Works Committee, denounced the transportation legislation as a "partisan bill."
NRC Names New Senior Inspector at CGS
The Nuclear Regulatory Commission on June 23 named Chris Roettgen as the new senior resident inspector at the Columbia Generating Station in Washington state.
Roettgen has been with the NRC since 2014 and previously worked as resident inspector at the Calvert Cliffs nuclear plant in Maryland and as a project engineer in the NRC's Region 1 office in Pennsylvania.
Groups Sue Over Mercury Rule Revision
Nearly two dozen environmental, health and civil rights groups on June 19 sued EPA over its rule that dropped a 2012 determination that regulating power plant mercury emissions was appropriate and necessary.
The groups filed suit in the U.S. Court of Appeals for the D.C. Circuit to challenge EPA's rule, finalized April 16. The rule left emissions standards in place but undid what EPA Administrator Andrew Wheeler called a "flawed cost finding" that the regulation's benefits outweighed its costs.
Wheeler has argued that EPA will continue enforcing mercury emissions limits.
The Montana Environmental Information Center is one of the 23 plaintiffs in the suit.
Plaintiffs said EPA's rule undermined the legal foundation for emissions limits and opened the door to legal challenges. They pointed to coal producer Westmoreland Mining Holdings' suit against EPA's rule, filed May 22 in the U.S. Court of Appeals for the D.C. Circuit.
California and 15 other states filed a motion to intervene in the Westmoreland case. In a statement, the California attorney general's office said the AGs and the California Air Resources Board "believe that EPA cannot be expected to faithfully defend the standards in court."
Utilities had urged EPA to keep the 2012 rule in place, arguing that they have already invested billions of dollars in compliance.
House Dems Question Royalty Guidance Change
House Natural Resources Committee Democrats on June 17 questioned the legality of revised guidance the Interior Department issued for oil and gas producers to seek royalty relief for projects on federal lands.
In a letter to Interior Secretary David Bernhardt, Democratic leaders on the committee questioned revisions to a requirement that operators provide an analysis showing both that production would be uneconomical at the current royalty rate and that it would be economical with a rate reduction.
The letter said changes dropping the requirement for operators to show that production would be economical with a rate cut "appear to violate the Mineral Leasing Act."
The letter asked Bernhardt to turn over information on when the guidance was changed and on reduction requests filed by lessees. Signatories to the letter were Reps. Raúl Grijalva (D-Ariz.), committee chairman; Alan Lowenthal (D-Calif.), chairman of the panel's Energy and Mineral Resources Subcommittee; and Mike Levin (D-Calif.).
LNG Exports Down More Than Half, EIA Says
U.S. exports of liquefied natural gas have plunged by more than 50 percent in the past three months, the Energy Information Administration reported June 23.
Deliveries of gas to export terminals fell from a record 9.8 Bcf per day in late March to below 4 Bcfd this month, the EIA reported.
The agency attributed the decline to demand reduction caused by the coronavirus pandemic, mild winter weather, and the buildup of storage in European and Asian markets.
Low prices in Europe and Asia have undercut the competitiveness of U.S. LNG, the EIA said. "LNG exports are priced at a premium to Henry Hub, in addition to tolling fees and transportation costs to destination markets," the report noted.
The EIA said it expects use of LNG export capacity to remain below 50 percent through August.
Meanwhile, the Federal Reserve Bank of Dallas reported June 24 that second-quarter exploration and production investment for oil and gas fell sharply in Texas, southern New Mexico and northern Louisiana.
Alaska Lawmakers Challenge Banks
Alaska's three-person congressional delegation urged federal banking regulators on June 16 to challenge what the lawmakers called financial institutions' "open discrimination" against oil and gas production in the Arctic National Wildlife Refuge.
The lawmakers, including Sens. Lisa Murkowski and Dan Sullivan (R-Alaska) and Rep. Don Young (R-Alaska), accused the banks of harming Alaska native communities on the North Slope that they said depend on revenues from energy production.
In a letter to Federal Reserve Chairman Jerome Powell, Acting Comptroller of the Currency Brian Brooks, and Jelena McWilliams, head of the Federal Deposit Insurance Corp., they asked for a probe of whether the banks' actions violated "relevant" laws, including the Community Reinvestment Act.
Goldman Sachs, Citigroup, JPMorgan Chase, Morgan Stanley and Wells Fargo have vowed not to finance new oil and gas production in the Arctic, including the coastal plain of the Arctic refuge. Congress authorized oil and gas leasing in the refuge's coastal plain in 2017 tax legislation.
Forest Service Directed to Expand Energy Production
Agriculture Secretary Sonny Perdue directed the Forest Service on June 12 to open up more lands for energy and mineral production and to streamline permitting.
In a memo to Forest Service Chief Vicki Christiansen, Perdue directed the agency to "provide relief from burdensome regulations," including identifying "new opportunities to increase America's energy dominance and reduce reliance on foreign countries for critical minerals."
The memo directed the Forest Service to "set time and page limits" on environmental reviews and find "alternative procedures" for consulting with other federal agencies on project permitting.
Perdue signed the memo in Missoula, Mont., receiving praise from Sen. Steve Daines (R-Mont.).