Energy Secretary nominee Dan Brouillette has promised to keep BPA privatization proposals "off the table," Sen. Ron Wyden (D-Ore.) said at Brouillette's Nov. 14 confirmation hearing before the Senate Energy and Natural Resources Committee.
"Privatizing Bonneville Power would hit the Pacific Northwest like a wrecking ball. You answered my question forthrightly, and I appreciate it," Wyden told Brouillette.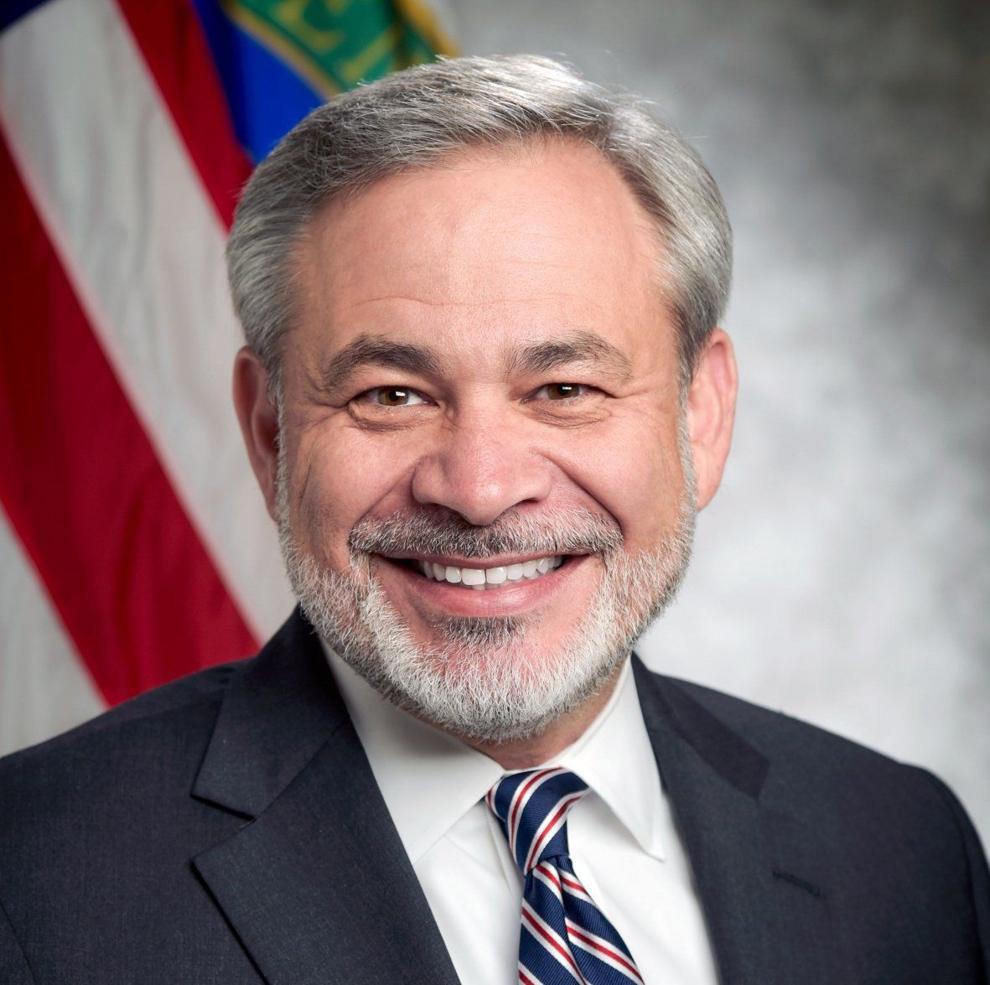 The Trump administration has proposed selling off BPA transmission assets in past budget requests, but the proposals have gone nowhere in Congress.
Brouillette, who has served as the Department of Energy's deputy secretary since 2017, also testified that he wasn't involved in any of Energy Secretary Rick Perry's Ukraine "conversations" that have been under the spotlight in the House impeachment inquiry.
"I have not been involved in any of the conversations that are related to the House inquiry. These are not matters that would typically fall to the chief operating officer of the department," Brouillette said in response to questions from Sen. Joe Manchin (D-W.Va.), the committee's ranking Democrat. "My role within the department is to run the day-to-day operations of the department. That and having nine kids keeps me pretty busy," he added.
Brouillette said his work with Ukraine involved in part technical assistance to help the country meet European Union requirements for interconnecting the country's grid and pipelines.
Sen. Lisa Murkowski (R-Alaska), the committee chairman, said Brouillette "is a great choice to replace Secretary Perry." Perry plans to resign by Dec. 1.
The hearing otherwise focused on policy matters that would face Brouillette if the Senate confirms his nomination. Brouillette called for stronger efforts to move technology developed by DOE research into the marketplace. Noting that fossil fuels are likely to account for a significant share of global energy use over the next four decades, Brouillette said that "if that's the case, we have an obligation, if we care about the climate, if we care about minimizing the carbon impact of the use of these fossil fuels, to get these [carbon-capture] technologies off the shelf and into the market."
Brouillette said Perry has urged the Internal Revenue Service to finalize guidance for the expanded carbon capture, utilization and reuse tax credit that Congress authorized in legislation enacted last year.
He also said improving battery technology is important, not only for backing variable renewables, but for backing fossil generation in order to improve grid resilience.
Proposed EPA Data Rule Under Fire
House Democrats and scientists on Nov. 13 attacked the EPA's proposal to limit the scope of scientific studies considered for drafting regulations only to research in which underlying data and models are disclosed for independent scrutiny.
EPA on Nov. 8 submitted a revised version of a 2018 proposed rule to the White House Office of Management and Budget for review.
Jennifer Orme-Zavaleta, EPA's principal deputy assistant administrator for science, testified that research transparency is important for ensuring that regulations are backed by science that can stand up to scrutiny.
"There are other tenets that weigh heavily, such as looking at how well studies were conducted, their quality assurance, what type of external peer review they went through and their overarching scientific integrity," Orme-Zavaleta said at a Nov. 13 hearing of the House Science, Space, and Technology Committee.
A draft of the proposal made public by The New York Times on Nov. 11 said the requirement would apply to all data and models underlying research.
In response to questions from Rep. Eddie Bernice Johnson (D-Texas), the committee chairwoman, Orme-Zavaleta said the Times report was based on an earlier draft of the revised rule, which she added was "not the one submitted" to OMB.
EPA on Nov. 12 issued a press release that said the Times report contained several inaccuracies, including a reported requirement in the proposal to disclose confidential medical data, which the agency said is "not true."
"EPA maintains protecting confidential personal information just as other federal health agencies regularly do," the agency statement said.
The proposed rule came under fire from Democratic lawmakers at the hearing.
Johnson said the proposal "is an attempt to undercut EPA's mandate to use the best available science. I believe this is part of an effort to destroy regulations that protect public health but are opposed by some regulated industries."
Rep. Jerry McNerney (D-Calif.) said that "the EPA cannot unilaterally decide to completely transform the way it uses science in its rulemaking. It needs to receive the authority from Congress and needs to justify the use of that authority. If the agency can't do that, the rule is not valid."
McNerney questioned EPA's basing its authority for adopting the rule on what he called a "federal housekeeping law" enacted in 1966.
The proposal also came under fire from leaders of science and health organizations.
Mary Rice, a Harvard Medical School professor and pulmonary physician testifying for the American Thoracic Society, cited health studies EPA is examining as part of a review of the ambient air-quality standard for particulate matter.
"If this proposed rule were implemented, the EPA would not be able to use those studies in deciding what level of particulate matter is safe because the studies could not meet the requirement for public data release," Rice said.
David Allison, dean of the Indiana University School of Public Health and a member of a National Academy of Sciences science reproducibility and replicability committee, said that "anything that serves to restrict access to useful information on the basis of a simplistic notion of looking at one indicator of the value of research is unwise and undermines the health and rationality of science in general."
Orme-Zavaleta said the proposal would not apply to regulations already on the books. "This particular rule applies prospectively," she said in response to questions from Rep. Suzanne Bonamici (D-Ore.).
Rep. Sean Casten (D-Ill.) noted, however, that the rule could result in excluding research underlying rules that come up regularly for review, such as ambient air-quality standards.
Bonamici, joined by Rep. Mikie Sherrill (D-N.J.), on Nov. 13 asked the National Academy of Sciences to review the EPA proposal, including potential impacts on EPA use of epidemiological studies and on safeguards against disclosure of confidential patient health data.
House Dems Question FERC PURPA Proposal
Democratic leaders of the House Energy and Commerce Committee on Nov. 8 took FERC to task over its proposed revisions of regulations implementing the Public Utility Regulatory Policies Act.
Reps. Frank Pallone (D-N.J.), the committee chairman, and Bobby Rush (D-Ill.), who heads the Energy Subcommittee, said the proposal is a "wholesale rewrite of the statute by the commission—something Congress has repeatedly refused to do."
In their letter to FERC Chairman Neil Chatterjee, the representatives took issue with the proposal to lower from 20 MW to 1 MW the threshold for presuming that renewable-energy facilities with capacity above the threshold have nondiscriminatory market access and utilities, therefore, are not obligated to buy their output.
Pallone and Rush also questioned the proposed elimination of a requirement that qualifying facilities have the option to select a fixed-price, long-term contract for energy.
The proposal would allow states to require energy rates in QF power-sales contracts to vary with the purchasing utility's avoided costs at the time of energy delivery. The proposed provision would not apply to capacity rates.
"FERC's proposal to change avoided-cost calculations and reduce the 20-MW rebuttable presumption would make it extremely difficult for any QF to obtain financing," Pallone and Rush wrote to Chatterjee.
"This would gut PURPA and completely reverse course on competitive market development," they added.
In addition, they questioned the proposal's expansion from 1 mile to 10 miles the distance threshold for presuming that QFs are separate facilities. Utilities have complained that the 1-mile rule has encouraged renewables plant developers to spread out projects larger than PURPA's 80-MW limit in order to get them classified as QFs.
The lawmakers chided FERC for having what they called "little to no record to support" the proposed revisions.
A divided FERC issued the proposal on Sept. 19. Chatterjee and Commissioner Bernard McNamee support the revisions, while Commissioner Richard Glick has called the proposal an overreach.
Chatterjee, for whom PURPA reform is a high priority, has argued that changes in the wholesale power market since the law's enactment in 1978—including the growth of low-cost renewables and natural gas-fired generation—warrant revisions in how the law is carried out.
Utility trade organizations have praised the proposal, which drew fire from the Solar Energy Industries Association and a caution flag from the Electricity Consumers Resource Council, an industrial customers group.
IEA Sees CO2 Emissions Growth Until 2040
Global carbon emissions would not peak until 2040 under current and planned energy policies, the International Energy Agency said in its annual World Energy Outlook, released Nov. 13.
Under what it called its "stated policies" scenario, the IEA said growth in low-carbon energy sources, including solar photovoltaics, would be insufficient to "offset the effects of an expanding global economy and growing population."
At a press conference, IEA Executive Director Fatih Birol said energy is a "world of deep disparities." He listed three examples: calm oil markets despite geopolitical tensions, growth in greenhouse gas emissions despite the need to mitigate climate change, and the fact that 850 million people around the world lack access to electricity.
Birol called for "strong leadership" from policymakers to bring down GHG emissions and to strengthen energy security.
Birol said "one bit of very good news" is growth in photovoltaic deployment. Birol also said the IEA has "high expectations" for offshore wind and battery storage, but added that "cost reductions will not happen by themselves." He said "there is a need, we believe, for government support" for reducing the technologies' costs.
The IEA outlook said increasing energy-efficiency improvements is the most important step for meeting the Paris climate agreement goal of keeping global temperature increases well below 2 degrees Celsius.
Birol noted that global CO2 emissions reached a historic high last year. He also said the scale of energy-efficiency improvements in 2018 "was one of the lowest in history." The 1.2-percent growth in 2018 was about half the average since 2010, according to IEA figures.
Birol also called attention to emissions growth from sport utility vehicles, which the outlook said are more difficult to electrify than medium-sized cars. In 2018, 18 percent of global vehicle sales were SUVs; by last year, 42 percent of vehicles sold were SUVs, he said.
BLM Opposes Bill's Revenue-Sharing Formula
The Bureau of Land Management opposes a bill, S. 2666, that would revise revenue-sharing formulas to give states and counties more rent, fee and leasing income from renewable-energy projects on federal lands.
Gregory Gould, director of the Interior Department's Office of Natural Resources Revenue, said in Senate testimony Nov. 7 that BLM opposes the proposed formula revisions for wind, solar and geothermal. Gould testified at a hearing of the Senate Energy and Natural Resources Committee.
S. 2666 was introduced by Sen. Martha McSally (R-Ariz.) and is co-sponsored by eight other Western senators, including Michael Bennet (D-Colo.), Steve Daines (R-Mont.), Cory Gardner (R-Colo.), Martin Heinrich (D-N.M.), Jim Risch (R-Idaho), Kyrsten Sinema (D-Ariz.), Jon Tester (D-Mont.) and Tom Udall (D-N.M.).
Under current law, all revenue from right-of-way rents and megawatt-capacity fees that wind and solar projects pay to BLM goes to the federal government. S. 2666 would send 25 percent each to the state and counties in which a project is located, and 35 percent to a conservation fund the bill would establish for recreation and conservation projects. The remaining 15 percent would go to the Treasury for funding renewable-energy project permit coordination.
The revised formula would extend until the end of 2039. From 2040 onward, the conservation and recreation fund would receive 40 percent of the funds and the Treasury share would be cut to 10 percent.
The bill also would revise the revenue-sharing formula for geothermal projects on federal lands, sending half to affected states, 25 percent to affected counties, and the remaining quarter to the Treasury. Under current law, geothermal revenues from rents, fees and royalties are split 50-50 between the federal government and affected states.
Gould's testimony also raised concerns about the bill's formula for limiting right-of-way rent increases for renewable-energy projects.
"The BLM recognizes the concerns raised by some grant holders regarding disproportionately high rents in Southern California and would be interested in working with Congress on technical modifications to the current rent schedule structure," Gould's testimony said.
In House testimony on July 25, Solar Energy Industries Association CEO Abigail Ross Hopper said solar developers are paying right-of-way rents that are "considerably higher than fair market value." HR 3794, a bill similar to S. 2666, is pending in the House Natural Resources Committee.
Under a rule BLM adopted in 2016, wind and solar right-of-way rents are tied to agricultural land values derived from the Agriculture Department's National Agricultural Statistics Service.
At the hearing, Sen. Joe Manchin (D-W.Va.), the committee's ranking Democrat, raised concerns about venting and flaring gas from wells on federal lands.
"When gas is vented and flared purely for economic reasons, that gas never makes it to the market, that royalty is never collected, and not one of us benefits at all," Manchin said. The federal royalty for onshore oil and gas is 12.5 percent, with revenues split 50-50 between states and the Treasury.
Manchin pressed Gould to provide estimates on how much gas is lost to venting and flaring from production on federal lands.
Heinrich said New Mexico plans to adopt a rule governing venting and flaring because the Interior Department "has not met their responsibility to the public health."
"It's very frustrating for me to see the Department of Interior roll back its methane rule when NASA documented the practically state-sized cloud of methane over the San Juan Basin of New Mexico," Heinrich said.
Heinrich was referring to the 2018 Interior Department rule that rescinded 2016 requirements that largely barred venting from wells on federal lands, limited flaring, set standards for preventing gas loss during well drilling and completion, and required leak detection and repair. The states of New Mexico and California have sued Interior, alleging the rule was based on a flawed cost-benefit analysis.
'Risk-Informed' Nuclear Regulation Backed
"Risk-informed" regulation is key to deploying advanced nuclear technologies, a former Nuclear Regulatory Commission member told a Senate hearing Nov. 13.
Peter Lyons, who served on the NRC from 2005 to 2009, told the Senate Environment and Public Works Committee that "deterministic regulations" tailored for light-water reactors should be re-examined in order to accommodate reactor technologies making use of "accident-tolerant" fuels and non-light-water coolants.
Lyons said deployment of small modular reactors is critical for ensuring a future for nuclear power in the U.S. He also called for "treating all clean-energy sources equally" and for a carbon tax.
Lyons said the U.S. is in danger of losing global leadership in nuclear technology to Russia and China. Since 1997, Russia has built or is constructing 24 nuclear plants outside its borders, he said.
"As Russia takes over that international leadership by their aggressive international outreach, we are, in my view, potentially ceding our leadership in nonproliferation and safety to Russia and eventually, I believe, to China," Lyons said.
In his written testimony, Lyons called on Congress to re-examine a plan to dispose of 34 tons of weapons-grade plutonium at the Waste Isolation Pilot Plant in New Mexico. The material, he said, could be used by the "versatile test reactor" that DOE plans to build for testing fuels and materials and by reactor technologies that could use a blend of plutonium and high-assay low-enriched uranium.
In other testimony, Edwin Lyman, the Union of Concerned Scientists' acting director of nuclear safety, leveled criticism at NRC safety policies. He took issue with what he called proposals to scale back plant inspections, reductions in "force-on-force" exercises testing plant defenses against terrorist attacks, and what he called the commission's lack of action to remediate "dangerously overloaded spent-fuel pools."
EPA Proposes Appeals Streamlining
EPA on Nov. 6 proposed a revision in permitting appeals that would require parties considering litigation against a permit to first go through an "alternative dispute resolution" process before going to court.
"Under this new process, the parties would have the choice, by unanimous consent, to extend [the dispute resolution process] or proceed to an appeal before the [Environmental Appeals Board]," EPA said.
The agency said the proposal would allow parties planning a court challenge to go to court more quickly "without going through additional administrative processes within the EPA."
The proposal also would narrow the jurisdiction of EPA's Environmental Appeals Board to "findings of fact and conclusions of law that are clearly erroneous." Under current procedures, the board can review policy questions, such as whether EPA "properly exercised its discretion."
Under the proposal, the board would no longer accept amicus briefs from interested parties.
In addition, the proposal would set a 60-day deadline for the board to make decisions after receiving all briefs and hearing arguments.