President Joe Biden said Oct. 5 that the sweeping 10-year budget bill funding his climate, health and education proposals would be smaller than $3.5 trillion.
At speech in Michigan, Biden said the bill is "not going to be $3.5 trillion. It's going to be less than that."
Biden did not provide details on what level of spending he would accept. In Oct. 4 remarks to reporters, he said, "As you know, it's not a smart thing to negotiate with yourself in public. Let's see—we're in the process of continuing to talk to all the parties and see what can get done."
Biden continued talks with lawmakers aimed at settling disagreements among congressional Democrats on the cost and scope of the legislation.
White House spokeswoman Karine Jean-Pierre on Oct. 7 said Biden and Sen. Joe Manchin (D-W.Va.) "had a good conversation about the president's Build Back Better agenda." Manchin, chairman of the Senate Energy and Natural Resources Committee, has said the bill's cost should top out at $1.5 trillion.
Biden also met with groups of progressive and centrist House Democrats Oct. 4 and 5 in an effort to chart "the pathway forward" for the 10-year budget bill and the Senate-passed infrastructure package that congressional Democrats hope to pass in tandem, the White House said. Democrats face a narrow path to passing legislation, with the Senate tied 50-50 and a thin majority in the House.
The Progressive Policy Institute, a middle-of-the-road think tank, said, "President Biden says negotiators are now aiming for a final package that likely will cost between $1.9 trillion and $2.3 trillion" over 10 years.
The group recommended a $2 trillion package that includes $600 billion for climate, including the $150 billion Clean Electricity Performance Program, which would award grants and levy penalties to prod utilities to develop portfolios aimed at 80-percent clean electricity nationwide by 2030.
The group acknowledged that Manchin has raised concerns about the CEPP, and "it may run afoul of the Byrd rule that governs what policies . . . can be passed through the reconciliation process that allows Democrats to circumvent a Republican filibuster" of the budget bill.
Differences over the cost and scope of the bill forced House leaders on Sept. 30 to postpone a vote on the separate, Senate-passed infrastructure package. House centrists asked for a vote on the infrastructure package, but progressive Democrats say they will support the package only if the larger bill is passed.
The 10-year bill as reported by the House Budget Committee includes the CEPP; extended tax credits for energy efficiency and renewables; new tax credits for storage, transmission and nuclear; royalties on methane vented and flared from oil and gas wells on federal lands; and higher oil and gas royalties from wells on federal lands and in federal waters less than 200 meters deep.
The infrastructure package includes about $60 billion for grid and clean-energy development, according to a White House estimate; $5 billion for states to build electric-vehicle charging stations; $2.5 billion for competitive grants to fund EV charging and other alternative fuel infrastructure; $10 billion in increased borrowing authority for BPA; $1 billion for removal, restoration or replacement of culverts that can impede fish passage; and $600 million for other fish passage restoration.
Postponement of the vote on the infrastructure package angered Sen. Kyrsten Sinema (D-Ariz.), who, along with Manchin, has argued that a $3.5 trillion budget bill would be too costly. She said Oct. 1 that postponement of the vote on the infrastructure package was "inexcusable."
"Over the course of this year, Democratic leaders have made conflicting promises that could not all be kept—and have, at times, pretended that differences of opinion within our party did not exist, even when those disagreements were repeatedly made clear directly and publicly," Sinema said.
Rep. Josh Gottheimer (D-N.J.), leader of the nine House centrists who have pressed for a vote on the infrastructure legislation, blamed "a far-left faction" for the vote postponement.
Sen. Shelley Moore Capito (R-W.Va.), who voted for the infrastructure bill, said "this week shows the fallacy of House Democrats holding a bipartisan infrastructure package hostage to try to force passage of the $3.5 trillion reckless tax and spending spree."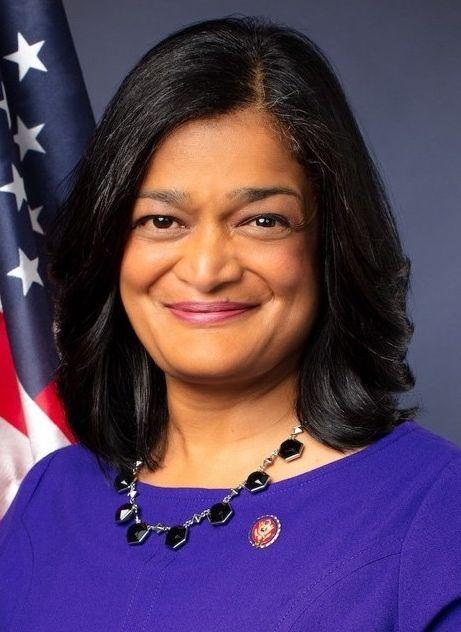 Rep. Pramila Jayapal (D-Wash.), leader of the Congressional Progressive Caucus, told CNN's State of the Union program Oct. 3 that congressional Democrats agreed the infrastructure and budget bills would be considered in tandem. "We have to put the bills back together, as was the original agreement, and we are going to deliver both bills, the infrastructure bill, which is important, and the Build Back Better Act," she said.
Jayapal said Manchin's cost ceiling of $1.5 trillion would be "too small to get our priorities in." Referring to the CEPP, she said the "clean electricity standards really do need to be in there for a 10-year period, because it takes time to cut carbon emissions."
In a July 28 memo to Senate Majority Leader Charles Schumer (D-N.Y.), Manchin said the Senate Energy and Natural Resources Committee should have exclusive jurisdiction "on any clean-energy standard."
Gas Prices Worry Industrial Customers
Exports of U.S. LNG are driving up prices, according to a leading analyst, which has prompted industrial customers to press the Department of Energy to order a cut in exports.
"There was strong evidence that exports are the primary demand driver for U.S. gas and thus the increase in prices," Nikos Tsafos, the Center for Strategic and International Studies' energy and geopolitics chair, wrote in an Oct. 1 commentary.
If the trend persists, Tsafos added, "that would represent a fundamental shift in the political case for LNG exports—possibly spelling trouble down the line and creating a dividing line between the country's appetite for cheap energy and its aspirations to be a global supplier."
Asked about LNG export restrictions, White House press secretary Jen Psaki on Oct. 6 declined to "make any additional policy predictions at this point in time."
Industrial Energy Consumers of America, a trade group, on Sept. 17 asked Energy Secretary Jennifer Granholm to reduce export rates "in order to allow U.S. inventories to reach the five-year average storage levels." In addition, IECA asked Granholm to put LNG export permits on ice "and conduct a review of whether these facilities are in the public interest under the [Natural Gas Act]. We are certain they are not."
Between February and July of this year, LNG exports rose from 208.4 Bcf per month to 300.1 Bcf per month, according to Energy Information Administration figures.
IECA said "excessive LNG export volumes are inflationary and threaten the competitiveness of trillions of dollars of manufacturing capital assets, millions of jobs and economic growth by driving up the cost of natural gas, natural gas liquids feedstock and electricity."
In its letter to Granholm, IECA noted that the Henry Hub "winter strip" price for gas reached $5.50/MMBtu, "more than double from a year ago."
Tsafos said the increase in U.S. LNG exports "is not related to the spike in gas prices in Europe and Asia. As long as there is price disparity between domestic and international prices, it pays to export, but exports are capped by the country's export capacity, which takes years to increase."
Tsafos noted that exports are "the most enduring source of incremental demand—and thus a main driver of higher natural gas prices in the United States as the country heads into winter."
To boost storage inventories to the five-year average, IECA said, "the U.S. would have to inject more than 90 billion cubic feet each week, a rate that is more than 40 percent higher than the five-year average weekly buildup rate."
Working gas in underground storage is down across the U.S., according to EIA figures—12.6 percent below the September 2020 level in the Mountain region and 22.9 percent below in the Pacific region. Spot gas prices were $5.95/MMBtu in the Northwest and $5.80/MMBtu in the Southwest, according to EIA figures.
Biden Restores Utah Monument Boundaries
Biden on Oct. 8 signed Antiquities Act proclamations restoring boundaries of the Bears Ears and Grand Staircase-Escalante national monuments that were downsized by former President Donald Trump, the Department of the Interior said.
Biden's proclamation restored Bears Ears to the approximately 1.36 million acres designated by then-President Barack Obama in 2016. In addition, under Biden's proclamation, Bears Ears will retain 11,200 acres added by Trump.
In addition, Biden's action restored Grand Staircase-Escalante to 1.87 million acres, bringing its boundaries back to where they were on Jan. 20, 2017. Grand Staircase-Escalante was designated by former President Bill Clinton in 1996 and augmented by 180,000 acres in subsequent legislation, bringing its total to 1.87 million acres, according to Interior.
Biden also signed a proclamation restoring fishing restriction at the Northeast Canyons and Seamounts Marine National Monument off the coast of New England.
Trump issued proclamations in 2017 reducing Bears Ears by 1.15 million acres and Grand Staircase-Escalante by more than 860,000 acres, according to Interior figures. Potential energy development in the areas removed from the monuments has been an issue connected to disputes over their boundaries.
According to the Utah Geological Survey, land within Bears Ears' original boundaries "holds only low to moderate energy and mineral development potential," but there is "moderate" potential for uranium production.
A 2019 management plan for lands removed from Grand Staircase-Escalante pinpointed areas with "high occurrence potential" for energy and minerals, including oil and natural gas, and pointed to development potential in the Kaiparowits coal field.
The Bears Ears Inter-Tribal Coalition, which challenged Trump's action in federal court, praised Biden's action. "The monument represents a historic opportunity for the federal government to learn and incorporate our tribal management practices," Shaun Chapoose, chairman of the Ute Indian Tribe, said. Other members of the coalition include the Hopi Tribe, Navajo Nation, Ute Mountain Ute Tribe and Pueblo of Zuni.
Utah's congressional delegation sharply criticized Biden's action. In a joint statement, the six lawmakers said Biden "is delivering a devastating blow to the ongoing efforts by our delegation, along with state, local and tribal leaders, to find a permanent, legislative solution to resolve the longstanding dispute over the boundaries" of the monuments.
FWS Opens Migratory Bird Rulemaking
The U.S. Fish and Wildlife Service opened a rulemaking on Oct. 4 for new regulations authorizing incidental take of migratory birds.
In a companion action, FWS formalized revocation of a Trump administration regulation that narrowed the scope of Migratory Bird Treaty Act protections.
FWS said it is considering a three-tier system for the rulemaking, including a general permit, which could include general permits tailored for specific industries, permits for projects, and exceptions for noncommercial activities.
"The service is considering developing individual, general-permit authorization regulations" for activities that are "common sources of bird mortality," including electric transmission and distribution systems, onshore and offshore wind generation, solar power facilities, methane and other gas burner pipes, and disposal pits for oil and gas production, FWS said.
Also, FWS said it is requesting comments on conservation conditions that permits should include. The service added that it is considering a "conservation fee structure" to collect funds for bird protection programs.
The comment period is open until Dec. 3.
CEQ Proposes Undoing 2020 NEPA Rule Changes
The White House Council on Environmental Quality on Oct. 7 proposed undoing revisions to National Environmental Policy Act implementation regulations the Trump administration finalized last year.
In a Federal Register notice, CEQ said the 2020 regulations "may have the effect of limiting the scope of NEPA analysis, with negative repercussions for environmental protection and environmental quality, including in critical areas such as climate change and environmental justice."
In addition, CEQ said, the regulations "may not support science-based decision-making or be compatible with the [Biden] administration's policies," including reducing greenhouse gas emissions.
The 2020 regulations established a two-year time limit on environmental reviews, set impact report page limits and scaled back consideration of cumulative impacts.
Sen. Tom Carper (D-Del.), chairman of the Senate Environment and Public Works Committee, called the CEQ proposal "a welcome move."
The 2020 regulations were supported by energy trade groups, including the National Rural Electric Cooperative Association, American Petroleum Institute, Interstate Natural Gas Association of America and U.S. Energy Association.
CEQ said five lawsuits were filed against the regulations, including litigation filed Aug. 28, 2020, by 21 state attorneys general as well as the District of Columbia, the Territory of Guam, New York City, Harris County, Texas, and state agencies in Connecticut and New York. The states' lawsuit, filed in U.S. District Court for the Northern District of California, has been stayed temporarily.
Senate Approves Short-Term Debt Ceiling Increase
The Senate on Oct. 7 approved a two-month increase in the federal debt ceiling, avoiding for now the prospect of an unprecedented default but opening the door to a renewed impasse in December.
The Senate acted after Minority Leader Mitch McConnell (R-Ky.) agreed not to filibuster a vote to pass legislation raising the limit by simple majority. McConnell has insisted that the limit be raised through the filibuster-exempt budget reconciliation process, which Biden and congressional Democratic leaders have said is a complex, time-consuming procedure.
The Senate voted on party lines, with the 50 members of the Senate Democratic Caucus voting in favor and 48 Republicans voting against. Two Republicans did not vote.
Further action by the House and Biden's signature are necessary to enact the legislation into law.
The Senate's action came 11 days before Oct. 18, the date when the federal government would run out of funds to pay all current bills, according to an estimate by Treasury Secretary Janet Yellen.
The White House on Oct. 6 issued a report warning that a default "would have serious and protracted financial and economic effects," including higher interest rates, that "could trigger a recession and a credit market freeze that could hurt the ability of American companies to operate."
Leaders of major financial institutions, including Bank of America, Citibank and JPMorgan Chase, met with Biden at the White House to press for legislation to raise or suspend the debt limit.
"We should get rid of the debt ceiling," JPMorgan Chase CEO Jamie Dimon said. "We don't need to have this kind of brinkmanship every couple of years."
Klamath Gets More Drought Relief Funds
The Bureau of Reclamation has awarded $5 million in drought relief funds for the Klamath Project, bringing to $20 million the total available for irrigators, the bureau said Oct. 5.
"This devastatingly dry year has been difficult for everyone," Jared Bottcher, the bureau's acting Klamath Basin area manager, said.
The U.S. Department of Agriculture has provided an additional $15 million for Klamath drought relief.
Climate Impact on Snowmelt Spotlighted
Climate change has likely resulted in diminishing snowmelt even during years of average snowpack, with long-range implications for Western water supplies, Arizona's top water official told a Senate hearing Oct. 6.
Tom Buschatzke, director of the Arizona Department of Water Resources, said the phenomenon of low runoff in average snow years "is something of huge concern to us moving forward." He said further measures to protect the elevations of Lake Mead and Lake Powell will be necessary, including greater water efficiency and increased use of reclaimed water.
The Senate-passed infrastructure package includes $8.3 billion for Western water projects.
Buschatzke said in his written testimony that the region has "seen several years in which runoff is significantly lower than snowpack." His testimony was presented at a hearing on Western drought impacts held by the Senate Energy and Natural Resources Committee's Water and Power Subcommittee.
In response to questions from subcommittee chairman Sen. Mark Kelly (D-Ariz.), Buschatzke said low snowmelt in average years "is a prime example of what climate change is doing. It is hotter. It is drier, and the snow either sublimates or does not run off into the river. It soaks into the ground." Sublimation refers to snow evaporating, bypassing the liquid phase.
Buschatzke added that snowmelt is beginning earlier in the year and spring plant growth is taking place earlier, consuming meltwater.
In other testimony, Tanya Trujillo, the Interior Department's assistant secretary for water and science, said updated five-year projections for the Colorado River show "a continued elevated risk of Lake Powell and Lake Mead declining to critically low elevations, including the potential of Lake Powell falling below minimum power pool as early as July 2022." The power plant at Glen Canyon Dam has a total nameplate capacity of 1,021.2 MW.
Kelly said Lake Mead is now at 35 percent of capacity, the lowest since the reservoir was filled, and Lake Powell is at 30 percent. "They are the poster children of Western drought," he said.
Interior Drops Fossil Fuel Valuation Rule
The Interior Department's Office of Natural Resource Revenue on Sept. 30 dropped a Trump administration rule that revised royalty-related valuation methods for oil and gas produced from federal lands.
The rule was finalized on Jan. 15, five days before the Trump administration ended.
The department said withdrawal of the rule would increase royalty collections by an estimated $64 million per year.
ONRR said adoption of the rule failed to consider alternatives and was based on flawed economic analysis.
In addition, ONRR said the rule overstepped in adopting a rule that it said "departed from its traditional role in the [Interior Department] in seeking to incentivize other oil and gas development and production through the revenue-impacting amendments."
The office said "this was unwarranted" because primary authority for giving royalty relief lies with the Bureau of Land Management for onshore leases and with the Bureau of Ocean Energy Management and Bureau of Safety and Environmental Enforcement for offshore leases.
Also, ONRR said there was "insufficient basis" for concluding that the rule would have incentivized oil and gas production, noting that "many factors, such as oil and gas prices, national and international supply, market forecasts, alternative energy sources, credit markets and competition, play a role in decisions on oil and gas development and production."
One of the changes in the 2021 rule that ONRR dropped was reinstatement of a gas lessee's ability to request an "extraordinary processing allowance." ONRR said the change was "overbroad because it could potentially apply in areas where production is already profitable."
"No supporter of the [2021] rule submitted a report or study demonstrating that the reinstatement of the extraordinary processing allowance would increase development or production," ONRR said. It estimated that the processing-allowance provision would cost the federal government more than $11 million annually in royalty revenues.
DOE Releases Climate Resilience Plan
The Department of Energy on Oct. 7 released a "climate adaptation and resilience plan" aimed at managing climate change impacts on DOE operations.
The plan is a framework for protecting DOE assets and more than 100 "nuclear legacy" sites from wildfires and other anticipated impacts of climate change, the department said. DOE's footprint includes 50 major sites covering 2.4 million acres.
DOE said climate change is affecting department facilities, for example contributing to fires that resulted in temporary closure of the Lawrence Berkeley and Los Alamos national laboratories, and to extreme cold that damaged the Pantex nuclear weapons assembly and disassembly plant in Texas.
The document notes that BPA and Western Area Power Administration have adopted plans to reduce wildfire risks to their transmission lines.
In addition, DOE's Office of Nuclear Energy is "addressing threats of increased drought and higher summer temperatures at Idaho National Laboratory" through energy-efficiency upgrades.
Facilities are adopting energy and water efficiency measures—including upgrades for HVAC, lighting and controls—the plan says. DOE is installing on-site renewable energy resources, such as the 3.3 MW solar facility at Lawrence Livermore National Laboratory, the plan notes.
Granholm Names Members to Advisory Board
Energy Secretary Jennifer Granholm on Oct. 4 named 18 new members to the Secretary of Energy Advisory Board, including Portland General Electric CEO Maria Pope and former FERC Chairman Norman Bay.
Other nominees include Arun Majumdar, first director of the Advanced Research Projects Agency-Energy and now co-director of Stanford University's Precourt Institute for Energy; John Dabiri, an aeronautics and mechanical engineering professor at the California Institute of Technology; and Adrianna Quintero, senior director of diversity, equity and inclusion at the San Francisco-based Energy Foundation.
Majumdar will chair the board. The new members will serve for two-year terms.
The board meets quarterly to advise the secretary on DOE priorities and emerging issues and to make recommendations.
EIA Nomination Sent to Senate
Biden formally nominated Joseph DeCarolis on Oct. 4 to head the Energy Information Administration.
DeCarolis is a professor in North Carolina State University's Department of Civil, Construction and Environmental Engineering. Before joining the faculty, he worked at EPA's Office of Research and Development, where he studied air quality impacts of energy development.
EPA Releases 2020 GHG Stats
Power plants were the largest source of greenhouse gas emissions in the U.S. last year, EPA reported Oct. 6.
Plants that submitted data to EPA's reporting program, totaling 1,339 facilities, emitted approximately 1.5 billion tons of carbon dioxide, down 10 percent from 2019 and one-third lower than in 2011, the report indicated. EPA attributed the declines to both the economic impact of the coronavirus pandemic and the electricity sector's shift away from coal-fired generation.
Biden Signs Transportation Stopgap
Biden on Oct. 2 signed into law a stopgap bill authorizing surface transportation programs through Oct. 31.
Congress swiftly passed the legislation the same day, by unanimous consent in the Senate and by a 365-51 vote in the House.
The legislation, HR 5434, was made necessary by the House's delay in voting on the Senate-passed infrastructure package (see item above), which included authorizations for transportation programs. Those authorizations expired Sept. 30.