Wyoming's great wind potential has been recognized by academics, energy developers and politicians; however, whether that potential will be fully developed depends on many factors, including whether state officials will increase wind production taxes.
Those pass-through costs would likely be seen on electric bills in California, Oregon and Washington—destinations for Wyoming-generated wind. 
The state currently has 1,488 MW of installed wind capacity in which $3.2 billion in capital investments have been made, according to the American Wind Energy Association. Another 3,000 MW of projects are under development, with an additional 1,780 MW in "advanced development." The National Renewable Energy Laboratory estimates the state has a technical wind-capacity potential of 472 GW and the potential to generate 1.6 million GWh from wind by 2020.
But state taxation of wind production is an ongoing issue that could impede further development. The state has a $1/MWh tax, which has remained the same since 2011. State Sen. Cale Case (R-Lander) thinks that should be as high as $5/MWh. 
Inadequate transmission capacity, not taxation, has prevented wind development, according to Case. Taxation is needed, he said, to compensate Wyoming residents for "losing something important to us," which is "the best vistas in the Lower 48." 
Case said in a phone interview that taxing wind is "not tit for tat" with coal-based revenue decreases. The owner of two Wyoming coal mines recently filed bankruptcy, pink-slipping 700 workers the same day, said Case. "That put a lot of people in a panic. We're trying to backfill our revenues and we are looking at what we can do." This includes considering a corporate tax and a mill levy. The state has neither a corporate nor a personal income tax. State sales tax is charged on wind farm supplies.
Any long-term benefits to Wyoming from wind power production are nominal, according to Case. He notes that 30 GW of Wyoming wind is scheduled to be used in Washington and Oregon to help those states meet their greenhouse gas reduction goals, which he says is more than other states' contributions. "This seems an awful big sacrifice to make without getting something in return."
Jonathan Naughton, director of the Wind Energy Research Center at the University of Wyoming, said previous production-tax increase attempts have not succeeded, save to cause uncertainty. "If you read between the lines," Naughton said, proponents of higher production taxes "don't want wind development."
Naughton said taxing a renewable resource is difficult to justify. Some lawmakers understand that wind will not replace coal and any improvement in the plight of the state's extractive industries is unlikely. Natural gas prices, as an example, would have to revert to $10/MMBtu for the natural gas industry to improve the Wyoming economy. New revenue sources are needed, but should not be at the expense of wind development, he said.
Naughton points out that 50 percent of Wyoming's power consumption is used for extracting oil, natural gas and coal. Wind has the potential, said Naughton, to attract energy-intensive businesses. 
A report by University of Wyoming researchers Benjamin Cook and Robert Godby, released March 7, found New Mexico is the lowest-cost state in which to develop wind, trailed by Montana, Colorado and Wyoming. 
The authors looked at the ramifications of a $5/MWh tax and found this would increase Wyoming's wind-development costs by 10 percent, making it the fourth most expensive state behind California, Nevada and Washington. The state's estimated tax burden would rise from $3.05/MWh to $6.62/MWh, the highest in the West. Dropping current sales and production taxes and "replacing them with a gross receipts tax could both lower the cost of wind development in the state by 1.5 percent and raise tax revenues from wind generation over the lifetime of a project by over 8 percent." 
Wyoming was one of the first states in which wind energy was developed, said Naughton, with some turbines erected in the 1970s and 1980s. The development push occurred in the early 2000s. 
The sticking point was how to get the wind to areas needing renewable energy, like California.
California wind and solar is nicely complemented by Wyoming wind, Naughton said. Afternoon wind peaks in Wyoming coincide well with California demand. "Any barriers are going to mess us up moving into this new energy mix," Naughton said.
But transmission capacity is one such barrier. Of seven or eight proposed regional transmission projects, only three or four are now being pursued, he notes. Among them are the Energy Gateway project—developed by PacifiCorp to move energy to customers farther West—and TransWest Express, designed to move wind energy from the Chokecherry and Sierra Madre Wind Energy Project in Carbon County, Wyoming, to California.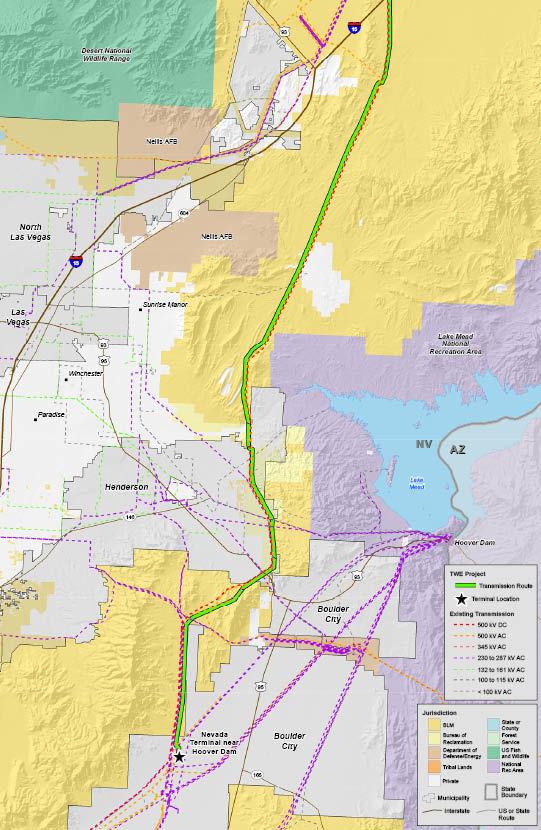 The Wyoming section of the Energy Gateway project is roughly 140 miles. Until its launch, it had been 20 years since PacifiCorp expanded its transmission system, David Eskelsen, a PacifiCorp/Rocky Mountain Power spokesman, said. 
"Expansion of the transmission capacity is essential to wind development," Eskelsen said, "but it's worth noting that the major segments of Gateway West across Wyoming to eastern Idaho have yet to be completed."
Rocky Mountain Power has 635 MW of net wind capacity from its Wyoming projects and another 506 MW of net wind capacity purchased via long-term contracts from other companies' projects. It expects to add 1,150 MW of new wind capacity in the near future, plus its repowering projects are expected to increase existing capacity by more than 25 percent.
The Chokecherry and Sierra Madre Wind Energy Project, being developed by Power Company of Wyoming, should generate 3,000 MW or more when it comes fully on line in 2026. The power is earmarked for California. 
The project schedule was extended to 2026 by the Carbon County Board of County Commissioners at its July 2 meeting, allowing alignment of federal, state and county permitting requirements, Kara Choquette, director of communications for Power Company of Wyoming and TransWest Express, said.
Three transmission possibilities exist from the northernmost site: Gateway South, Gateway West and TransWest Express. 
TransWest Express is a 730-mile, 500-kV-capacity HVDC/HVAC line from Wyoming connecting to the California Independent System Operator's grid in Nevada. It will initially be powered at 1,500 MW when it comes on line in 2023, but will be upgraded to 3,000 MW in 2025 or 2026.
Choquette says support for the Chokecherry and Sierra Madre Wind Energy Project has been tremendous. "From outside the state, there's the perspective that Wyoming doesn't like wind. That's not a fair characterization of the state," she said.
But a wind tax is imminent, according to Case, who says a ballot initiative is likely. 
"A lot of people support [higher taxes] as a way to modulate development a little bit," Case said. "We are selling out too cheap for something we don't consume . . . I'm convinced it will happen. Maybe not at $5, but it will happen."
Wyoming's great wind potential has been recognized by academics, energy developers and politicians; however, whether that potential will be fully developed depends on many factors, including whether state officials will increase wind production taxes.Those pass-through costs would likely be seen on electric bills in California, Oregon and Washington—destinations for Wyoming-generated wind. The state currently has 1,488 MW of installed wind capacity in which $3.2 billion in capital investments have been made, according to the American Wind Energy Association. Another 3,000 MW of projects are under development, with an additional 1,780 MW in "advanced development." The National Renewable Energy Laboratory estimates the state has a technical wind-capacity potential of 472 GW and the potential to generate 1.6 million GWh from wind by 2020.But state taxation of wind production is an ongoing issue that could impede further development. The state has a $1/MWh tax, which has remained the same since 2011. State Sen. Cale Case (R-Lander) thinks that should be as high as $5/MWh. Inadequate transmission capacity, not taxation, has prevented wind development, according to Case. Taxation is needed, he said, to compensate Wyoming residents for "losing something important to us," which is "the best vistas in the Lower 48." Case said in a phone interview that taxing wind is "not tit for tat" with coal-based revenue decreases. The owner of two Wyoming coal mines recently filed bankruptcy, pink-slipping 700 workers the same day, said Case. "That put a lot of people in a panic. We're trying to backfill our revenues and we are looking at what we can do." This includes considering a corporate tax and a mill levy. The state has neither a corporate nor a personal income tax. State sales tax is charged on wind farm supplies.Any long-term benefits to Wyoming from wind power production are nominal, according to Case. He notes that 30 GW of Wyoming wind is scheduled to be used in Washington and Oregon to help those states meet their greenhouse gas reduction goals, which he says is more than other states' contributions. "This seems an awful big sacrifice to make without getting something in return."Jonathan Naughton, director of the Wind Energy Research Center at the University of Wyoming, said previous production-tax increase attempts have not succeeded, save to cause uncertainty. "If you read between the lines," Naughton said, proponents of higher production taxes "don't want wind development."Naughton said taxing a renewable resource is difficult to justify. Some lawmakers understand that wind will not replace coal and any improvement in the plight of the state's extractive industries is unlikely. Natural gas prices, as an example, would have to revert to $10/MMBtu for the natural gas industry to improve the Wyoming economy. New revenue sources are needed, but should not be at the expense of wind development, he said.Naughton points out that 50 percent of Wyoming's power consumption is used for extracting oil, natural gas and coal. Wind has the potential, said Naughton, to attract energy-intensive businesses. A report by University of Wyoming researchers Benjamin Cook and Robert Godby, released March 7, found New Mexico is the lowest-cost state in which to develop wind, trailed by Montana, Colorado and Wyoming. The authors looked at the ramifications of a $5/MWh tax and found this would increase Wyoming's wind-development costs by 10 percent, making it the fourth most expensive state behind California, Nevada and Washington. The state's estimated tax burden would rise from $3.05/MWh to $6.62/MWh, the highest in the West. Dropping current sales and production taxes and "replacing them with a gross receipts tax could both lower the cost of wind development in the state by 1.5 percent and raise tax revenues from wind generation over the lifetime of a project by over 8 percent." Wyoming was one of the first states in which wind energy was developed, said Naughton, with some turbines erected in the 1970s and 1980s. The development push occurred in the early 2000s. The sticking point was how to get the wind to areas needing renewable energy, like California.California wind and solar is nicely complemented by Wyoming wind, Naughton said. Afternoon wind peaks in Wyoming coincide well with California demand. "Any barriers are going to mess us up moving into this new energy mix," Naughton said.But transmission capacity is one such barrier. Of seven or eight proposed regional transmission projects, only three or four are now being pursued, he notes. Among them are the Energy Gateway project—developed by PacifiCorp to move energy to customers farther West—and TransWest Express, designed to move wind energy from the Chokecherry and Sierra Madre Wind Energy Project in Carbon County, Wyoming, to California.The Wyoming section of the Energy Gateway project is roughly 140 miles. Until its launch, it had been 20 years since PacifiCorp expanded its transmission system, David Eskelsen, a PacifiCorp/Rocky Mountain Power spokesman, said. "Expansion of the transmission capacity is essential to wind development," Eskelsen said, "but it's worth noting that the major segments of Gateway West across Wyoming to eastern Idaho have yet to be completed."Rocky Mountain Power has 635 MW of net wind capacity from its Wyoming projects and another 506 MW of net wind capacity purchased via long-term contracts from other companies' projects. It expects to add 1,150 MW of new wind capacity in the near future, plus its repowering projects are expected to increase existing capacity by more than 25 percent.The Chokecherry and Sierra Madre Wind Energy Project, being developed by Power Company of Wyoming, should generate 3,000 MW or more when it comes fully on line in 2026. The power is earmarked for California. The project schedule was extended to 2026 by the Carbon County Board of County Commissioners at its July 2 meeting, allowing alignment of federal, state and county permitting requirements, Kara Choquette, director of communications for Power Company of Wyoming and TransWest Express, said.Three transmission possibilities exist from the northernmost site: Gateway South, Gateway West and TransWest Express. TransWest Express is a 730-mile, 500-kV-capacity HVDC/HVAC line from Wyoming connecting to the California Independent System Operator's grid in Nevada. It will initially be powered at 1,500 MW when it comes on line in 2023, but will be upgraded to 3,000 MW in 2025 or 2026.Choquette says support for the Chokecherry and Sierra Madre Wind Energy Project has been tremendous. "From outside the state, there's the perspective that Wyoming doesn't like wind. That's not a fair characterization of the state," she said.But a wind tax is imminent, according to Case, who says a ballot initiative is likely. "A lot of people support [higher taxes] as a way to modulate development a little bit," Case said. "We are selling out too cheap for something we don't consume . . . I'm convinced it will happen. Maybe not at $5, but it will happen."