The University of Utah's Kem C. Gardner Policy Institute on Jan. 6 issued a report with sweeping recommendations to assist legislative policy on improving Utah's air quality and reducing carbon emissions.
Requested in 2019 by the Utah Legislature, which allocated $200,000 for an air-quality and climate research study, the report offers priority strategies that include setting specific emissions-reduction goals, creating an air-quality and climate solutions laboratory, supporting sustainable growth, advancing electric-vehicle use, providing assistance to communities affected by the energy transition, and participating in a national dialogue about "market-based approaches to reduce carbon emissions."
The recommendations mirror policies recently adopted in Southwestern states that elected Democratic party leadership in 2018. Though Utah remains a solidly Republican state with supermajorities in both legislative houses and in the governor's office, recommendations such as reducing emissions 25 percent by 2025, 50 percent by 2030 and 80 percent by 2050, using 2005 as a baseline, might get traction in a state with a growing population and an 80-percent decline in its snowpack between 1955 and 2013.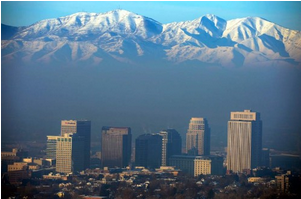 The report also recommends increasing EV adoption in Utah through expanding the charging network, involving the state's auto dealers, targeting incentives toward middle- and low-income households, and accelerating EV fleet adoption in both the public and private sectors.
The report suggests funding through securitization and other means to assist communities affected by the transition away from fossil fuels when coal-fired plants are retired ahead of schedule. Rocky Mountain Power, the investor-owned PacifiCorp subsidiary that serves much of Utah, plans to close 16 of its 24 coal-fired plants in the state by 2030 and 20 by 2038 (see CEM No. 1559).
Market-based incentives for renewable energy, storage, efficiency, carbon capture, carbon pricing and cap-and-trade programs are all policy directions the report says Utah should actively discuss. It backs creation of a state-level carbon policy committee and suggests state lawmakers engage with Utah's national legislative delegation in the interest of exerting leadership on the issue.
The report is available for public comment on the Gardner Institute website through Jan. 27, the first day of Utah's 2020 Legislative session. It will be finalized to incorporate public insights and submitted to the Legislature by the end of the month.