Nevada Gov. Steve Sisolak on Nov. 22 moved forward with the state's goals to decarbonize its economy and reduce emissions by expanding and accelerating Nevada's climate ambitions.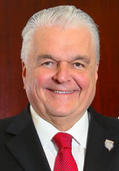 Sisolak's executive order directs state agencies to identify and evaluate policies and regulatory strategies to achieve long-term greenhouse gas emissions reductions, as required by SB 254, which he signed in June, and in accordance with Nevada's commitment as a member of the U.S. Climate Alliance. The state has set a goal of reducing greenhouse gas output 28 percent below 2005 levels by 2025.  
The Nevada Department of Conservation and Natural Resources' first annual SB 254 report, due by Dec. 31, will include an inventory by the state's Division of Environmental Protection of statewide GHG emissions from the past year and projections for the next 20 years. Meeting these provisions of SB 254 constitutes Phase 1 of the order.
To help achieve the targets, the administration, led by DCNR and the Governor's Office of Energy, will coordinate and facilitate statewide agency and stakeholder participation, culminating in Phase 2 of the order, a State Climate Strategy with specific policy and budget recommendations for reducing GHG emissions and mitigating the effects of climate change, to be delivered by Dec. 1, 2020.
Policies for achieving GHG-reduction goals and climate mitigation efforts will include economywide and sector-specific programs and market-based mechanisms. The order calls for policies that support transportation electrification and demand management, including infrastructure, fleet procurement and alternative funding mechanisms. Building codes will be revamped to improve energy efficiency in the residential and commercial building sectors. Enhanced environmental management policies to increase conservation and restoration efforts in Nevada's forests, rangelands and water sources will be aimed at enhancing the state's climate resilience and mitigating climate impacts.
"Pursuing these ambitious emissions reductions goals will require collaboration with local and tribal governments, businesses and stakeholders from all across Nevada," David Bobzien, director of the Nevada Governor's Office of Energy, said in a news release. "This executive order provides the direction and framework for both combating climate change and realizing the economic opportunities of a decarbonized economy."
The order reflects a move away from the state's current energy mix, consisting of approximately two-thirds imported fossil fuels, according to the order, and toward the state's own solar, geothermal and wind resources. It points to Las Vegas—the nation's fastest-warming city—where the average annual temperature increased 5.76 degrees Fahrenheit between 1970 and 2018, according to an April report by Climate Central.
Nevada joined the U.S. Climate Alliance, committing to the goals of the Paris climate agreement, in March. Sisolak in April also signed SB 358, which raised Nevada's renewables portfolio standard to 50 percent by 2030 and committed the state to 100-percent carbon-free energy by 2050.
"Governor Sisolak is blazing a path for other states looking to go green while the federal government limits its role to withdrawals and rollbacks," Patricia Valderrama, climate and clean-energy advocate for the Natural Resources Defense Council, said in a news release issued by Western Resource Advocates.
"We are confident that Nevada can identify strategies to cut pollution that will also help everyone save money, such as expanding energy efficiency initiatives in the building, utility, and transportation sectors," Travis Madsen, transportation program director for the Southwest Energy Efficiency Project, said in the release.