The Arizona Corporation Commission's June 20 decision to enact a statewide moratorium on summertime power disconnections for nonpayment is stirring up controversy within the commission and among utilities it regulates.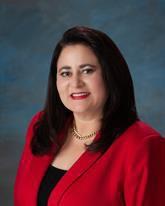 Commissioner Lea Márquez Peterson on June 28 filed a letter to the docket [E-00000A-19-0128] calling for an independent investigation into the 2018 death of a 72-year-old Arizona Public Service customer following a disconnection for nonpayment on a day temperatures reached triple digits (see CEM Nos. 1544 [21] and 1545 [19]). Peterson, who did not attend the special meeting at which the moratorium was approved, listed numerous questions in her letter and suggested that having ACC staff who participated in APS' 2016 rate case investigate the matter could create the appearance of a conflict of interest.
"I felt a claim could be made that a rate increase from the last APS rate case could've led to [the customer's] inability to pay her bills, as well as higher levels of disconnections in general. Therefore, having members of staff who were a party to that rate case performing an investigation into this incident could be seen as a conflict of interest," Peterson wrote.
Peterson urged that an investigation "should critically examine current rules, policies, practices, and procedures to identify areas of improvement to ensure that public health and safety are protected in the future." She called on ACC Chairman Bob Burns to place consideration of a third-party investigation on the agenda of the ACC's July 10 and 11 meeting.
But Burns raised questions about Peterson's objectivity, as did Commissioner Sandra Kennedy.
"I would remind Commissioner Peterson that staff provides an advisory function to the commissioners," Burns wrote in a July 2 follow-up letter. "In other words, commissioners make the final decisions through their votes, staff only makes recommendations." Burns declined to place the matter on the July meeting agenda released the same day.
"Since Commissioner Peterson is so new to the commission, I would remind her that at least one previous commissioner has been publicly exposed as having personal communications with APS lobbyists arranging meetings for 'drinks,'" Burns wrote in his response.
Burns was referring to former ACC member Andy Tobin, whom Peterson replaced in May, after Gov. Doug Ducey made Tobin head of the Arizona Department of Administration. Tobin came under scrutiny last fall when a watchdog organization uncovered texts between Tobin and APS lobbyists (see CEM No. 1512 [17]).
"If commission resources are going to be dedicated to determining if possible undue influence occurred in the APS rate case, maybe focusing on elected decision-makers might be a better course of action," Burns said, reminding Peterson that she has the authority to subpoena both Pinnacle West CEO Don Brandt and "the previously mentioned commissioner to appear before this commission to answer any questions she may have regarding undue influence."
Kennedy wrote that she was concerned Peterson's letter "shifts the focus of this tragedy from the utility and onto [ACC] staff," and that campaign contributions by APS parent company Pinnacle West Capital to Peterson's 2018 congressional campaign made her letter more concerning. Peterson lost to incumbent Ann Kirkpatrick in her bid for the U.S. House of Representatives in the 2018 general election. Andy Tobin, Peterson's predecessor on the ACC, also lost a congressional campaign bid to Kirkpatrick in 2014.
Other additions to the docket included requests from utilities for variances to the general moratorium on summer disconnections. Navopache Electric, a nonprofit cooperative serving customers in the mountains of Arizona's Mogollon Rim, said a general moratorium on summer disconnections for nonpayment and a policy that expects customers to resolve outstanding bills during winter could lead to health and safety threats due to low temperatures in colder parts of the state. To prevent these unintended consequences, Navopache requested the commission approve a waiver allowing the co-op to suspend disconnections in its service territory only when area weather forecasts predict temperatures of 101 degrees Fahrenheit or above.