Arizona regulators at a Jan. 12 meeting took a step toward their stated goal of encouraging energy innovation and decarbonization in the state with the unanimous approval of an electric service contract rate schedule between a utility and a high-load-factor customer. The customer, integrated zero-emissions transportation systems provider Nikola, is intent on producing electrolytic hydrogen and developing hydrogen fueling infrastructure in the state.
In its application to the Arizona Corporation Commission for the contract between Arizona Public Service and Nikola, APS said that "Nikola anticipates deploying hundreds of millions of dollars" to construct hydrogen production and fueling facilities in the state. Nikola also anticipates a load factor above 92 percent, which APS says will help reduce overall costs to serve all its customers by flattening the load profile and optimizing its generation fleet. Load factor refers to the ratio of actual kilowatt-hours used in a given period, divided by the total possible kilowatt -hours that could have been used in the same period at the peak-kW level established by the customer during the period.
The contract rate will facilitate low-cost hydrogen production and enable a "zero-emission heavy-duty freight corridor along the I-10 freeway between Los Angeles and Phoenix," Nikola said in a news release. The company, which produces battery-electric and hydrogen-electric trucks, expects to deliver hydrogen at "market-leading prices" and to offer competitive leases for its truck customers, the release says.
Unlike most other extra-high load-factor customers eligible for special rates, Nikola's facilities will be configured to respond to demand-response dispatch instructions, similar to a microgrid or battery. This makes Nikola more attractive to APS, which incorporated a capacity credit for its unbundled generation into the contract rate. To qualify for the rate, Nikola must reach a large-scale operational threshold; until that time, APS will serve Nikola under a general-service rate schedule with no discounts or special provisions. APS anticipates Nikola will be eligible for the rate within four years.
"The approval of this special rate for hydrogen production is critical for advancing the future of zero-emissions transportation and building a hydrogen economy," Nikola CEO Mark Russell said in the release. The agreement will encourage Nikola to invest in Arizona, increase load related to hydrogen production and further develop a local workforce, the release says.
While many of the specifics remain confidential, contract components include a monthly maximum demand as well as minimum load-factor and power-factor requirements. Terms and limits on curtailment events are also included, and charges will be subject to a minimum monthly bill. Nikola will work with APS to finalize site selection and interconnection requirements.
"As we begin to enter a new energy economy . . . I want to ensure that we take all steps necessary to promote Arizona's gradual and innovative move towards decarbonization," ACC Chair Lea Márquez-Peterson said after the vote. She encouraged the commission to make Arizona "the nation's epicenter of hydrogen production, processing, and fueling."
When opening the meeting, Márquez-Peterson, a Republican, addressed those present and participating remotely regarding the Jan. 6 events in Washington, D.C. "While it's not common as utility commissioners that we speak on matters beyond utility rates and energy policy during an open meeting, these are unusual times," she said. "As elected officials, we are not only corporation commissioners but also role models of democracy. The events that unfolded at our nation's Capitol were not acceptable and made me very sad to watch." She said public safety is a priority at the ACC and that "riots and violence will not be condoned," before asking those present to join her in a moment of silence.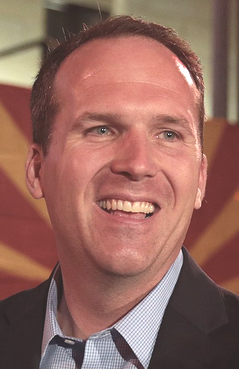 Ratepayer advocate Stacey Champion during public comment on a discussion regarding amendments to the commission's code of ethics called out ACC member Justin Olson for his concurrent employment as the chief financial officer of "extreme right-wing organization Turning Point USA," which Champion said is an ethics concern. She also raised transparency issues related to Márquez-Peterson's past and present business dealings. ACC attorney and ethics officer Robin Mitchell interrupted Champion with the admonition that comments should refer broadly to commission ethics rather than "castigate individual commissioners."
"There was some relevance to the comments that Ms. Champion was making," ACC member Sandra Kennedy offered moments later. "I am concerned about what we do outside of the commission," she said. "Is that part of our ethics? Should that be part of our ethics code? So whether we're casting a stone or not, it's a question I have after last week's episode in D.C. I have some questions of my own for a sitting commissioner and the ethics of that commissioner," she said.
Olson following the meeting issued a statement clarifying that Turning Point USA "does not engage in political activity and had no involvement with last week's rally for the President." He said he has never worked at Turning Point Action and that "Turning Point USA educates students about the importance of fiscal responsibility, free markets, and capitalism. It has been an honor to dedicate my financial experience and education to serving as the Chief Financial Officer for an organization that is doing such great work in educating young people about the importance of these critical values that made our country strong and free."
According to their websites, both Turning Point USA and Turning Point Action are chaired by Charlie Kirk, who also serves as the chairman of Students for Trump. "Through building strong campus networks, organizing conferences, and equipping activists with the knowledge and strategies needed to combat the left, TPUSA empowers young people to make a difference within their community," the nonprofit organization says on its website. The Turning Point USA website lists Olson as CFO and also features a professor watchlist "to expose and document college professors who discriminate against conservative students and advance leftist propaganda in the classroom." The list includes photos and affiliations of more than 100 professors.
The commission agreed to bring amendments to the ethics code for discussion in February and a vote in March.
Márquez-Peterson concluded the meeting by offering commissioners and the public an opportunity to suggest ACC priorities for the year. Representatives from Sierra Club, Interwest Energy Alliance, Southwest Energy Efficiency Project, Arizona Public Interest Resource Group, the Hopi Nation, Western Grid Group and numerous individuals called in. Along with commissioners, they emphasized quick passage of the ACC's energy and utility disconnection rules, a just transition for tribes and affected coal communities, an exploration of the feasibility of retail and wholesale electric competition in Arizona, and integration of clean resources through the possible development of an independent system operator or regional transmission organization. Efforts to revise the ACC's website for ease of use and to encourage the Legislature to authorize pay raises for ACC staff were also listed as commission priorities.