Despite increasing greenhouse gas emissions from California's transportation sector, one thing remains clear about the state's emissions future: more cars are on their way in.
State officials expect to see more cars on California's roads over the next decade, the California Energy Commission said at a staff workshop on July 22, including those fueled by gasoline, electricity, hydrogen or natural gas.
Thirty million cars are driven in the state today and about 35 million are expected to be on the roads in 2030. Twenty-seven million of those in use today are fueled by gasoline, a figure expected to increase to about 28 million by 2030. In comparison, about 400,000 electric vehicles operate today, inflating to about 4.5 million in 2030.
What will spur the EV uptake, officials say, are California rebates lasting until 2025; shortened charging times of 10 to 16 minutes by 2030; increased average driving range of up to 341 miles per charge; and decreased battery costs.
Battery costs could decrease by about 50 percent by 2030, from $190 per kWh to between $90 and $140 per kWh, H-D Systems President Gopal Duleep said at the workshop. Those cost-reduction forecasts for batteries might be aggressive, Duleep said, but he added that communicating aggressive price-reduction forecasts to the public is important in order to ensure "EV competitiveness in the future."
Electricity demand due to the additional EVs is expected to increase from about 5,000 GWh in 2019 to about 20,000 GWh in 2030. Light-duty electric vehicles are estimated to account for nearly all of the growth, requiring about 4,000 GWh today and about 16,000 GWh in 2030. The remaining load increase will come in the medium- and heavy-duty vehicle categories, such as electrification of school buses (see CEM No. 1548 [11]) and airport shuttles (see CEM No. 1545 [11]).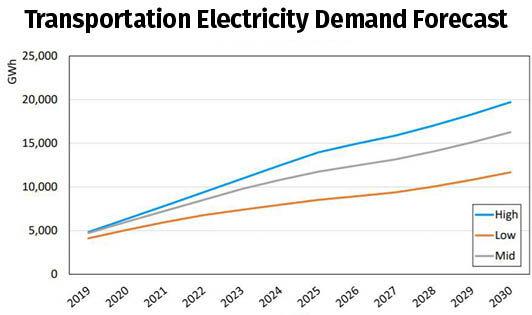 In January 2018, then-Gov. Jerry Brown issued Executive Order B-48-18 to put at least 5 million zero-emission EVs on California roads by 2030 and to add 250,000 plug-in EV chargers, including 10,000 direct-current fast chargers, and 200 hydrogen refueling stations by 2025. In 2017, EVs made up 5 percent of new-car sales in California, up from 3.8 percent in 2016, according to the California Air Resources Board.
However, GHG emissions from the state's transportation sector have increased over the years, rising 1 percent in 2014, 3 percent in 2015 and 2 percent in 2016.
Emissions impacts due to a greater number of EVs on the road will be determined by how the additional electricity supply is generated, such as by natural gas or renewables, the CEC said. The emissions changes will "depend highly on the future composition of projected electricity supplies," according to the CEC's 2018 Integrated Energy Policy Report.
When asked about emissions projections due to increased numbers of both electric and gasoline cars, the CEC told California Energy Markets it had not completed such a comparison.
"The hope is to develop a method to evaluate GHG impacts for electric vehicles, but the Energy Commission does not have a current timeline for having a method or analytical results," the CEC said.
Earlier this year, CARB Chair Mary Nichols said the agency was considering a ban on all internal combustion engines, specifically by requiring all new-car sales to be EVs.
No proposal has been made yet; however, Nichols said that by 2045 "there can't be any cars sold in California that aren't zero-emissions vehicles of one sort or another. I don't expect to be alive to see that, but that's where we're headed."
CARB estimates that 70 percent of GHG emissions from California's transportation sector—and 28 percent of all GHG emissions in the state—come from light-duty vehicles, which are cars and trucks that weigh 8,500 pounds or less.
Government agencies in the state are trying to lead EV uptake by example, CARB said. By 2030, the air board will try to purchase or lease only EVs for its fleet, unless no EV option exists to meet a required function.
However, some industry experts are advocating for more attention to local solutions. "There is not a single solution at the regional level," Center for Sustainable Energy manager Jonathan Changus said at another CEC EV workshop on July 18. "It is equally important we listen to our communities, especially when we're talking about the barriers faced by moderate- and low-income communities. San Francisco charging solutions are not going to be the same as Fresno's."
Other alternative fuels for cars are forecast to see growth over the next decade as well. Hydrogen for vehicle fueling is expected to increase from about 2 million kg today to about 25 million kg in 2030, while the "flex fuel" E85, an ethanol-gasoline blend of 51 percent to 83 percent ethanol, is expected to grow from about 22 million gallons to 55 million gallons. Diesel fuel is expected to flatline over the next 10 years, staying near 3.7 million gallons annually.
Investor-owned utilities have said they plan to support growth in EVs and associated electricity demand. Southern California Edison released its Clean Power and Electrification Pathway in October 2017, proposing an electric grid that is supplied by 80 percent carbon-free energy and can accommodate at least 7 million EVs.
Aspen Environmental Group said the CEC should also expect significant electricity demand growth in the state's shipping and trucking industries.
Shipping port cargo-handling equipment, such as cranes, is expected to require up to 200 GWh per year in 2030, up from about 1 GWh annually today. Trucks carrying refrigerated goods currently require about 100 GWh per year and are expected to need about 700 GWh in 2030.