Electrification could result in thousands fewer deaths from air pollution and an estimated net benefit of $108 billion per year for the state by 2050, a new California Energy Commission report says.
Electrification could prevent about 6,400 deaths per year in the South Coast Basin and about 12,300 avoided mortalities per year for the state as a whole, according to the June report.
The state would need to electrify many of its homes and industries to significantly reduce air pollution and realize those benefits, the report says. Electrification means switching to electricity from fossil fuels, such as biomass, coal, petroleum products, and natural gas, and the report included potential electrification scenarios of many industries, including power generation; passenger vehicles; off-road vehicles; light, medium, and heavy-duty trucks; buildings; farm equipment; and homes.
"Even with unfavorable assumptions, total net costs for electrification are equivalent to a few years of annual health cost benefits," the report . "There is relatively rapid payback for investments from air quality benefits."
Lack of information is stopping some new home buyers from choosing electricity instead of natural gas and other fossil fuels, the report said. New homes have the highest potential for electrification because they are cheaper to electrify compared to retrofitting an existing home. To combat the expense of electrifying an existing home, some utilities offer incentives, such as the Sacramento Municipal Utility District, which offers $11,750 if all appliances are replaced with electric appliances, a panel upgrade is performed, and efficiency improvements are made.
Although electric appliances often have higher up-front costs than comparable natural gas appliances, they generally have low operating costs and no direct emissions, the report says. In addition, the service costs for plumbing natural gas in a home and installing exhausts are substantial, so for new construction a fully electrified house will have lower overall costs than a house with gas appliances.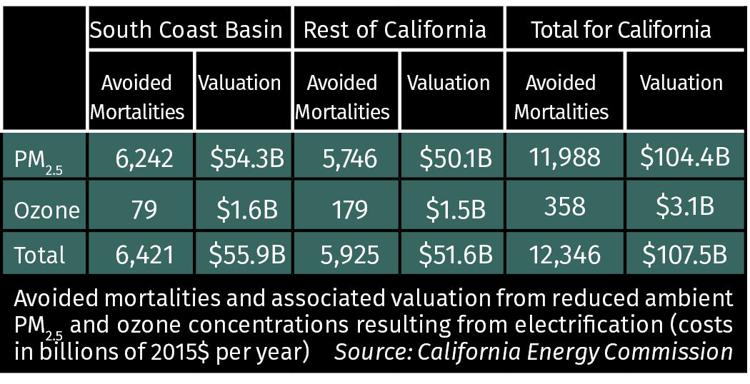 Residential wood-burning is the primary cause of harmful air pollutants, according to the report, producing as much particulate matter as all other emission sources combined. Electrification efforts should be focused on reducing wood combustion where possible, including increasing education about the effects of wood combustion and incentivizing installation of heat pumps as a replacement for wood heating.
The report assumed residential wood burning would be eliminated by 2050 but noted that "completely banning indoor wood combustion is likely infeasible." In addition, the amount of residential wood burning occurring each year is unknown. Some wood burning is used for heat, while some is used for "ornamental" purposes.
However, residential wood burning should be studied in more detail, even if completely banning it is infeasible, the report said. Further research could provide a more representative assumption of usage and possible reduction levels, and in turn suggest more effective reduction programs.
The report went on to say that Particulate Matter 2.5—below 2.5 micrometers in size—is a primary cause of premature mortality. About 90 percent of premature deaths caused by air pollution are associated with PM2.5, while only 2 - 4 percent is attributed to ozone gas.
Particulate matter varies greatly in shape, size, and chemical composition, and can be made up of many different materials such as metals, soot, soil and dust, the California Air Resources Board said. PM2.5 particles easily penetrate into the airways and lungs where they may produce harmful health effects, such as worsening of heart and lung diseases. The estimated avoided number of deaths due to PM2.5 reductions are approximately 30 times higher than those from ozone reductions.
Even though the report evaluated aggressive goals for electrification, these goals are likely still less aggressive than would be required to meet former Gov. Jerry Brown's Executive Order B-55-18, according to the report. The order was signed last September and set a goal of economy-wide carbon neutrality by 2045.
The report did not include information about woodburning health effects caused by the increasing number of catastrophic wildfires in California over the past three years, as the report's focus was specifically on residential wood burning.
"The model assumed that wildfires stayed the same as in the base year of 2011," CEC staff said in an email. "We did discuss modifying this since it is an important consideration and seems likely to change over time, but did not change them in this work. This is something we will look into for future work."
Electrification could benefit disadvantaged communities more than other communities, according to the report. Disadvantaged communities in California are defined as communities most affected by the combination of economic, health, and economic burdens. About 33 percent of California households are considered low-income, so large emission reductions in the state overall will not be possible unless improvements occur at all income levels.