California's investor-owned utilities and community choice aggregators are striving to meet state targets for procuring goods and services from so-called diverse firms, but are hamstrung in procuring energy from these types of businesses because there are so few eligible companies with which state energy providers can contract.
These and other insights into the entities' procurement practices were included in a newly released California Public Utility Commission report to the Legislature.
Energy utility, water and telecommunications companies overseen by the CPUC are required by General Order 156 to provide an annual report detailing the dollar amounts of contracts awarded to diverse businesses.
The CPUC program also maintains a "clearinghouse" or database of women-; minority-; lesbian, gay, bisexual and/or transgender-; and disabled veteran-owned business enterprises. Collectively, the acronym WMDVLGBTBE or the term "diverse suppliers" is used to refer to these types of businesses. The CPUC clearinghouse operator verifies most businesses; however, disabled veteran-owned businesses are certified by the Office of Small Business and Disabled Veteran Business Enterprise Services.
A total of 30 utilities and 14 CCAs submitted their 2020 procurement reports to the CPUC, which summarized those results in the Sept. 2 report.
On the surface, the numbers in the report show the CCAs to be lagging behind utilities; however, the report only focuses on contracts between the agencies and CPUC-registered suppliers. It also fails to consider that CCAs, which are public agencies, are prohibited by Proposition 209 from contracting based on WMDVLGBTBE status. IOUs can ask for this information before signing a contract.
The utilities' WMDVLGBTBE expenditures decreased 7.5 percent, from $12.7 billion in 2019 to $11.7 billion in 2020, according to the CPUC's 35th Annual Report to the Legislature. The report notes that 30.1 percent of total procurement was with diverse suppliers—greater than the GO 156 target of 21.5 percent. Southwest Gas spent more than 67 percent of its total procurement with diverse suppliers, while the report also acknowledges that Pacific Power and Suburban Water Systems spent more than 50 percent with diverse suppliers. San Diego Gas & Electric and Southern California Gas Co. led the large utilities in diverse spending with more than 40 percent. They were followed by Pacific Gas & Electric with 38.9 percent and Southern California Edison with 37.7 percent.
The report notes that "utilities are not flexible when it comes to certain standards and requirements" for contracts, "especially those relating to safety, security, and risk management." Compliance can be challenging and can limit diverse suppliers from competing for utility contracts.
Fuel and power procurement are cited as one area in which utilities are challenged to secure contracts with diverse suppliers. The CPUC said the "usual barriers" are blocking diverse suppliers from participating in contracting. These include capital and size constraints and a lack of access to tools such as online trading platforms.
Out of the 14 CCAs that filed reports, 11 reported diversity spending in 2020. Of the total $3.1 billion spent by CCAs in 2020, 0.1 percent, or $1.9 million, was with diverse suppliers. Of that total, the California Community Choice Association said roughly $2.9 billion, or 94 percent, went toward power procurement. IOUs spent about 45 percent on power procurement. 
The CPUC notes that these figures do not include contracts signed with small businesses that are certified with the California Department of General Services. California Choice Energy Authority, Pioneer Community Energy and Valley Clean Energy reported no procurement spending with diverse suppliers in 2020.
CCAs are hampered by the need to comply with Prop. 209, as well as a lack of "diverse suppliers in their geographic areas and in the energy market generally," the report says.
"The majority of CCA spend (approximately 90-95 percent) is on power procurement," the report continues. "Historically, the electric market has been dominated by larger corporations with the capital to meet the credit and collateral requirements, making it difficult for most small and diverse businesses to be competitive or achieve ownership of energy resources. This ratio of power spend with minimal diverse procurement opportunities has presented a challenge for CCAs looking to increase spend with diverse suppliers," the CPUC said.
"As it stands now, there are only 27 electric power procurement suppliers in the CPUC Supplier Clearinghouse out of 8,800 registered vendors," Shelly Whitworth, senior energy media specialist with Central Coast Community Energy, told California Energy Markets. "Our Local Purchase Preference Policy helps address the issue that local diverse businesses may sometimes bid higher because responding to our requests for offers and proposals can be time consuming and costly."
CalCCA said the lack of diversity in the 30-year-old supplier diversity program "predates the existence of CCAs."
"Given the small pool of diverse power suppliers, it is virtually impossible for CCAs, whose primary focus is on power procurement, to show significant diverse spend under the current program," the organization said in an email.
Matthew Marshall, executive director of Redwood Coast Energy Authority, in an email to CEM said that of RCEA's 2020 budget, 91.5 percent was expended on power procurement and 8.5 percent for all other products and services. "RCEA's net procurement in the 2020 GO156 report was $43.9 [million], and if power procurement was excluded from that total as we have been directed by CPUC staff to do in future reports, RCEA's reported net procurement would have been $3.75 [million]," he said.
Marshall said the numbers are also misleading in that "CCA procurement from eligible but not yet certified vendors is not recognized."
These and other issues mean that the reports fail to fully capture "the reality of total purchases from diverse businesses and other businesses that experience economic marginalization," Marshall said. "For example, RCEA's contracted general counsel is a woman-owned—and 100% women-staffed—business and our contracted IT consultant is a minority-owned business, but neither of these businesses were certified in the database in 2020 so the $166K in combined spending didn't count for reporting purposes."
Additionally, the CCA focuses on contracting with local Department of General Services-certified small businesses that are not currently in the CPUC supplier database. "RCEA spent $21,890.71 on local, DGS-certified small businesses in 2020," Marshall said. "This diverse spend is impactful because our CCA service territory is small and rural and experiences economic marginalization in a way that is distinct from our more urban counterparts. Our local procurement from small businesses is essential in our service territory, where poverty and low household income are widespread, and where distance creates logistical challenges in procuring goods and services from outside our area." RCEA spent about $15.6 million with local businesses in 2020, he added.
The CPUC also notes, "These challenges largely explain why there is no subcontractor spend reported by the CCAs."
Prior to the release of the CPUC report, the California Hispanic Chambers of Commerce issued a news release stating that the CCAs "are woefully behind in contracting with the state's diverse small businesses." A seven-page report, which was not linked through the release, was based on the agencies' reports to the CPUC.
The CHCC said CCAs should either match the CPUC's 21.5-percent GO 156 diversity procurement target or the 40-percent average that CPUC-regulated investor-owned energy utilities are meeting.
Barbara Hale, assistant general manager for power at the San Francisco Public Utilities Commission, in an email to CEM said the SFPUC shares the CHCC's concern "that there is a lack of diversity within the power supply marketplace." The SFPUC administers CleanPowerSF, a CCA program.
"We value the services provided by small, local, and diverse businesses and join in the CHCC's call for increased diversity within the power industry. Since we began service through CleanPowerSF in 2016, we have been committed to working with diverse suppliers where there is capacity in the marketplace," Hale said. "We welcome the opportunity to work collaboratively with industry, regulators, legislators, community groups, and customers to address the systemic problems that hinder progress on the issue," she said.
"CCAs are committed to advancing supplier diversity and their efforts this year reflect that commitment and a desire to grow their impact," CalCCA Executive Director Beth Vaughan said in an email to California Energy Markets. "We welcome the opportunity to start a dialogue with CHCC so we can work together on our shared goals."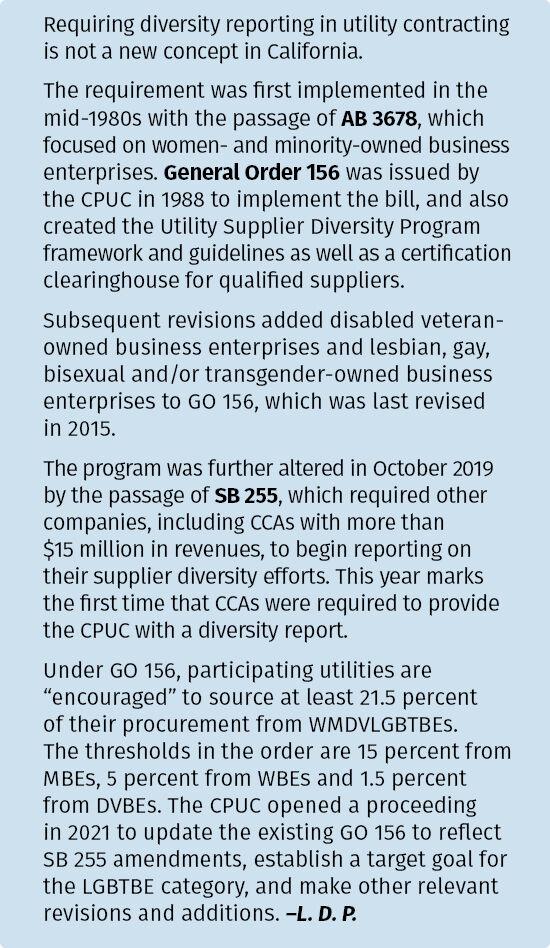 CCAs contacted by CEM said energy procurement contracts need to be considered separately from those for other goods and services. The SFPUC pointed out that PG&E's 2020 Supplier Diversity Report shows it spent less than 0.1 percent of its power-supply expenses with eligible WMDVLGBTE vendors, which is not that different from the CCA numbers.
"Within the power procurement field, supplier diversity is extremely limited, and is a problem faced by both IOUs and CCAs," the SFPUC stated.
The chamber makes three requests in its news release: require CCAs to be included in GO 156 reporting; hold a CPUC hearing on how CCAs can meet GO 156 diversity targets; and place a moratorium on new CCAs until they are included in GO 156.
But most of the recent CCA growth in California has been confined to local governments voting to join existing joint-powers authorities and, ultimately, CCAs. The San Diego County Board of Supervisors, for example, on Aug. 31 voted 3-2 to join the existing San Diego Community Power. This will enable unincorporated San Diego County residents to begin getting service from SDCP in 2023.
Other energy-related trade groups—the American Association of Blacks in Energy and Asians in Energy—did not respond to requests for comments by press time.
The CHCC report does not acknowledge that CCAs are predominantly procuring energy for customers, while IOUs have a range of different products and services, such as constructing and maintaining transmission infrastructure.
East Bay Community Energy said that 98.3 percent of its 2020 budget was expended on energy procurement.
In contrast, PG&E spent $1.69 million on food and drink in 2020, with 14 percent claimed as being spent with WMDVLGBTBE contractors. And SDG&E noted that of the $2 million it spent on apparel in 2020, $1.8 million, or slightly more than 90 percent, was sourced from WMD businesses.
"The scope of goods and services CCAs procure as generation-only providers is only a subset of the types of goods and services IOUs procure as providers of generation plus transmission and distribution," Marshall said. "As CCAs assume a greater portion of the load once served by IOUs, the lack of diversity in the power generation industry is reflected in less opportunity for CCAs to show a diverse goods and services procurement portfolio."
Both IOUs and CCAs are having problems contracting with diverse businesses for energy procurement. "Like other electricity providers in California, [Clean Power Alliance] has found a limited supply of diverse business enterprises to meet its power procurement needs, but is committed to supporting the growth of diverse suppliers as well as encouraging all of its suppliers to consider diverse subcontractors and promote workforce diversity," CPA CEO Ted Bardacke said in the CCA's filing.
PG&E and SDG&E confirmed in their diversity filings that there are few eligible suppliers for power procurement. Complicating matters are tighter wholesale power market margins, as well as the need for contractors to meet industry-standard credit and collateral requirements. SDG&E in its report said that credit limitations often prevent diverse suppliers from presenting "a plausible case for their proposals against large electric generators financed by investment firms or commercial banks." The utility is using a credit instrument called the Funds Transfer Agency Agreement that it says "facilitates entry into a capital-intensive portion of our power procurement process for diverse suppliers without having to utilize their available lines of credit."
Each of the CCAs said they are committed to promoting and ensuring diversity throughout their businesses, but that the root causes of the issue need to be addressed in order for a greater number of minority-owned businesses to secure utility and CCA contracts.
The CPUC commended both types of entities "on their efforts to incorporate diverse suppliers in contracting opportunities, technical assistance and capacity building programs, advocacy initiatives, and prime contractor engagements." It added that the 2020 reports "demonstrate participant commitment to integrate WMDVLGBTBEs into their organization culture and supply chains."