Retirement of the Aliso Canyon natural gas storage facility will lead to shortfalls in deliverable natural gas and electricity in coming years, third-party consultants told the California Public Utilities Commission.
The findings were presented at the first Phase 3 workshop, a virtual meeting held Nov. 17 designed to take prior modeling results and evaluate options for the eventual retirement of Aliso Canyon. Options for replacing the facility include building new infrastructure elsewhere; however, these projects' costs and benefits will need to be evaluated.
FTI Consulting was contracted by the commission. Matthew DeCourcey, managing director for FTI, said the firm has been working with Gas Supply Consulting Inc. on the project since August. DeCourcey said the firms are adhering to the CPUC's scoping-memo parameters and looking at solutions to prevent systemwide reliability issues associated with the loss of the Aliso Canyon resource, including undertaking complex operational and economic analyses. The Nov. 17 workshop focused on the operational analysis.
The consultants examined 2027 and 2035 and determined there would be a total natural gas pipeline supply of 3,115 MMcf per day in both years, based on 85-percent capacity in the Northern Zone and 100 percent at Wheeler Ridge, as well as a 90-percent inventory level, which one participant deemed "optimistic." They also assumed that Honor Rancho storage would be used to support daily demand fluctuations.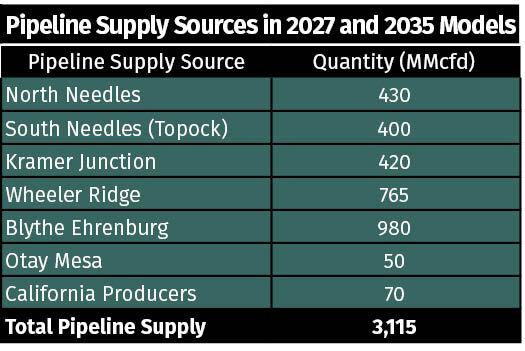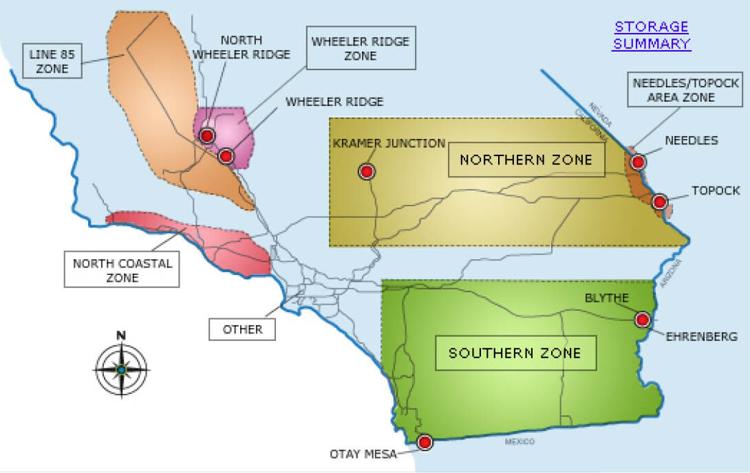 Without Aliso Canyon—and assuming all natural gas core and noncore (nonelectric generation) deliveries would be maintained—deliveries of natural gas for electricity generation would need to be reduced by 434 MMcfd in 2027 and 318 MMcfd in 2034. This equates to roughly 56,000 MWh and 33,000 MWh of reduced winter peak day gas generation in 2027 and 2035, respectively.
Looking at the calculated shortfall, the analysts found the largest generation shortfall for any single 1-in-10 winter hour in those years, which they call "the most critical hour." In 2027, the shortfall in natural gas delivery would be 32.6 MMcf and in electric generation, 4,216 MW. In 2035, the shortfall in the most critical hour would be 24.2 MMcf of natural gas and 2,600 MW of electric generation.
The next step in the analysis will be to explore solutions to address the shortfall. Those might include the development of additional non-natural gas-fired generation, natural gas demand reductions, or construction of new natural gas infrastructure, such as natural gas storage.
"We don't have to solve both. We can solve one or a combination of two in the right ratios," DeCourcey said. "We're not being arbitrarily precise. We're trying very hard not to guess."
The workshop was part of an investigation opened by the CPUC in February 2017 [I17-02-002], as outlined in SB 380 following the 2015 natural gas leak at Aliso Canyon.
Southern California Gas Co., the storage facility's owner, contends Aliso Canyon's continued operation is necessary to maintain affordable, reliable energy in Southern California, pointing to five previous studies supporting its claim (see CEM No. 1566).
Previous workshops, held Oct. 15 (see CEM No. 1612} and July 28 (see CEM No. 1601), focused on various other scenarios and analyses related to systemwide natural gas conditions in Southern California.
The workshops will lead to a decision by the CPUC about the long-term viability of the Aliso Canyon facility. This could include its curtailment or closure, depending on whether systemwide energy reliability is at risk from such a change.
The four elements in the latest analysis include running electric system simulations for a 1-in-10 winter day to determine how much natural gas is burned; determining how much natural gas the system can deliver hour by hour; calculating the shortfall; and defining portfolios of potential infrastructure investments. DeCourcey and the analysts took great pains to explain the assumptions in the analysis and differences from the Phase 2 data. They added the Moss Landing battery storage project, for example, which was not in the Phase 2 inputs, and also added resources that have gone into commercial operation. They did not include resource adequacy and system planning changes, any electric-vehicle buildout, or SoCal Gas system modernization.
In looking at projected demand and natural gas burns, FTI Director Mitch DeRubis said there was a "large and dramatic increase between [hours ending] 17 and 21 both years," which he attributed to a combination of factors occurring in these time periods: greater demand based on increased light-EV charging, no solar resources, and depleted two- and four-hour battery energy storage. The increase is more exaggerated in 2035.
"Gas shortage that translates into an electricity shortage," DeCourcey said, "that is the bogey we are solving for." The consultants reiterated that they looked at winter rather than summer because natural gas supplies are more constrained in winter months. They are looking at resources that would most effectively compensate for the loss of Aliso "based on really broad strokes," DeCourcey said.
The consultants assembled four potential portfolios focused on a single factor—natural gas transmission, demand-side natural gas, electricity demand response-storage, and a queue pro rata mix based on projects scheduled to come on line—to determine what option can either reduce demand or provide enough megawatts to replace Aliso. The final portfolio is intentionally undefined because the consultants will develop an optimized mix based on the other portfolios.
One workshop attendee asked DeCourcey why they were entertaining natural gas options given the move to statewide building electrification. "It makes sense to replace [natural] gas with [natural] gas," he said. "We can't take as a given that we can eliminate [natural] gas from consideration . . . We are bound by the scoping memo. We can't just do that offhand."
Other measures to support system balancing without Aliso might be needed, such as increasing compression for injections at the Honor Rancho natural gas storage facility, contracting with other parties to help with imbalances, or instituting tariff solutions such as providing balancing incentives to shippers.
The next analyses will include 20-year market simulations to estimate the impact of new infrastructure on markets and determine the net present value of each portfolio, as well as benefits analyses.
All the data used in this and future analyses will be available online, DeCourcey said. Informal comments on the Nov. 17 workshop are due by Dec. 1.
The timeline calls for having a draft report available in May 2021, as well as a workshop to present the findings and elicit feedback. The final report from the consultants is due to the CPUC in either July or August 2021.