The California Air Resources Board on June 27 approved new regulations to create more accessible and understandable electric vehicle charging stations across the state.
The new regulations will increase payment options at charging stations, facilitate roaming agreements between station providers, enhance location and pricing information databases, and provide clarity about the cost of a charging session.
EV charging stations are currently not as convenient as gas stations, CARB noted in its proposal. Charging stations can require a subscription or membership, forcing drivers to buy several memberships and carry them in order to drive longer distances.
EV drivers might not be able to start a charging session for many reasons, including a lack of stations available in their area, not being a member of a particular charging network, and inconsistent charging session pricing formulas, according to CARB.
"This is important regulation for removing the barriers to EV adoption," CARB Chair Mary Nichols said. "As we move beyond the early adopters to what we call normal consumers, people are going to expect something closer to what they have today with [gas] fueling."
Currently, many charging stations require cell phone applications and specific purchasing cards, called RFID cards. RFID cards may require drivers to sign up for a membership with a particular charging network service provider. Membership can include providing a cell phone number, email address, credit or debit card, while agreeing to pay a monthly fee and loading a set amount of funds onto the card.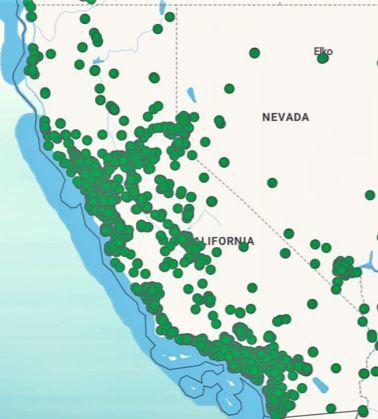 "You routinely hear that varying access to payment methods at existing charging infrastructure confuses EV drivers," CARB Executive Officer Richard Corey said. "Even if a driver is successful at a station, they might still experience unclear charging session pric-ing."
Some parties opposed the new regulations, such as Hilary Staver of Silicon Valley Clean Energy, who said that the proposed payment method requirements also fail to account for rapid evolution in payment technologies.
"Requiring extensive retrofitting of existing [charging stations] for a specific payment technology that may shortly be outdated is unlikely to be the most efficient use of the resources available," Staver said.
CARB said that EV charging is also currently more difficult for low-income drivers, who have limited ac-cess to advanced cell-phone technologies and credit. A majority of California residents—about 56 percent—can access the internet or email by cell phone, which is required by some EV charging service providers in order to initiate a charging session. However, CARB said that the percentage of people who access the internet or email through their cell phones is greater in higher income and younger population segments.
The approved regulations implement Senate Bill 454, which was passed in 2013 and requires charging stations to display standardized labeling and provide drivers with all costs associated with a charging session.
The new regulations will not increase the number of chargers in the state nor directly incentivize EV sales, CARB said. Instead, the regulations could increase EV usage by expanding access to the charging infrastructure.
The number of EV chargers in California is still far too low to support widespread EV adoption, CARB said. The California Energy Commission estimated that California needs 229,000 to 279,000 EV connectors to support 1.5 million ZEVs by 2025. To date, the state has approximately 18,000 connectors installed, representing only 7 percent of the anticipated future need, according to CARB.
At the board meeting, CARB also approved converting gas-fueled airport shuttles to electric shuttles. All airport shuttle fleets must be 33 percent electric by 2028, 66 percent by 2032, and 100 percent by 2036.
Airport shuttle types include vans, cutaways, and buses, and are owned by private off-airport parking businesses, hotels, and the airports themselves. Currently, about 169 private entities with about 1,000 shuttles provide service to the state's 13 airports, CARB said.
The approved shuttle regulation is expected to reduce greenhouse emissions by 500,000 metric tons of carbon dioxide equivalent from 2017–2040 and reduce particulate matter caused by tailpipe emissions by 2.5 tons. By 2040, the proposed regulation is expected to have a beneficial economic impact of $30 million, primarily due to lower fuel and maintenance costs, CARB said.