Building decarbonization will increase the usage of potent global warming refrigerants and add to the state's peak load, two issues that officials are attempting to resolve as homes and business cap their methane pipes in favor of flowing electrons.
The California Energy Commission on Aug. 24 and Aug. 26 hosted a workshop with the California Public Utilities Commission and industry experts to discuss emerging issues, and potential solutions, that will go along with an effort to reduce building emissions in the state.
"We are leaning on electric technologies for [building] decarbonization . . . and none are more important than heat pumps for space and water heating," CEC member Andrew McAllister said at the Aug. 26 workshop. "One aspect of our electrification journey is that we will have increasing amounts of refrigerants in these heat pumps . . . the global impact of refrigerants is a big chunk of the [building emissions] problem."
Hydrofluorocarbon refrigerants are the fastest-growing source of greenhouse gas emissions in California, as well as nationally and globally, California Air Resources Board scientist Aanchal Kohli said at the Aug. 26 workshop. CARB has been tasked with reducing HFC emissions in the state to 40 percent below their 2013 levels by 2030, per SB 1383, passed in 2016.
HFCs can be hundreds to thousands of times more potent than carbon dioxide in contributing to climate change, the CEC said in a building-decarbonization report published earlier this month [21-IEPR-06]. HFC leakage potential will increase as more heat pumps are installed in the state due to electrification requirements and climate change, the report says.
State agencies are working on policies and programs that offer incentives for the use of refrigerants with a lower global warming potential. However, low-GWP refrigerants are more expensive and not able to be used in certain commercial equipment, the report says. Heat pumps for space and water heating are nonetheless a primary tool to reduce building emissions, it says.
Building electrification could increase electricity consumption in the state 3 to 9 percent by 2030 under a "low-electrification" scenario. Under a "moderate-electrification" scenario, electricity consumption could increase 5 to 19 percent, the report says.
Residential water heating could require an additional 6,600 GWh in 2030 due to building electrification; residential space heating and cooling could require an additional 6,100 GWh in 2030; and commercial space heating could require an additional 1,800 GWh that year, according to the report. Winter peak load in investor-owned utility territories is projected to increase by 6 percent in 2030 and summer peak load is projected to increase by 8 percent, the report says.
Shifting the times at which building equipment turns on will decrease the amount of battery energy storage equipment that would be needed on the grid by 2030. For example, without load shifting in January 2030, the grid could need about 520 GWh from battery storage equipment, whereas with load shifting, the grid would need about 320 GWh.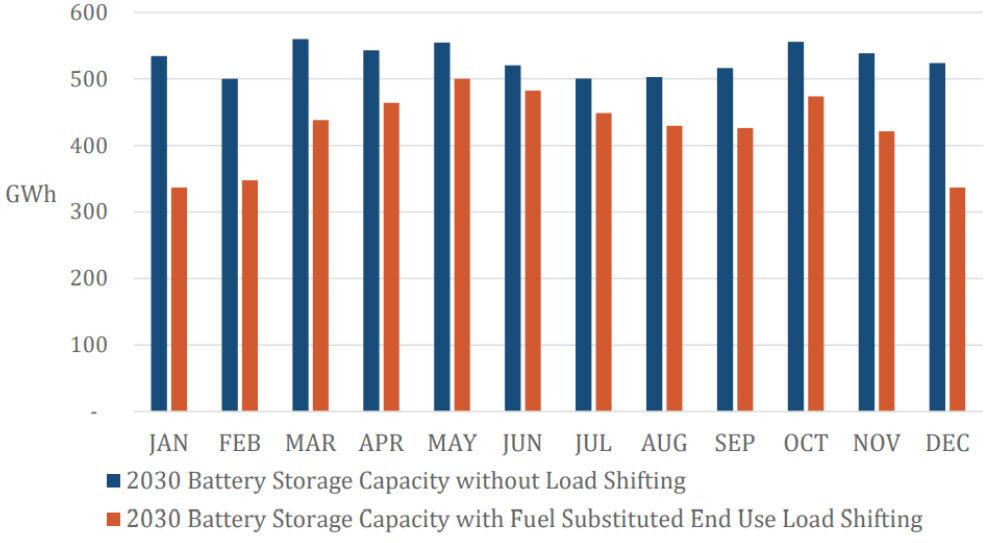 In 2030, the state's building sector must emit 40 percent of the amount of greenhouse gases that the sector emitted in 1990, per AB 3232, passed in 2018. Residential and commercial buildings currently cause about 25 percent of the state's total GHG emissions, the report says.
One of the most challenging parts of building decarbonization is eliminating or reducing direct building emissions, which are primarily caused by use of natural gas in buildings, according to the CEC's report. In 1990, direct emissions of buildings in the state caused about 54 million metric tons of carbon dioxide-equivalent out of a total 124 MMTCO2-e of emissions.
Behind-the-meter gas leaks account for a portion of building emissions: In 1990, BTM gas leaks caused about 1.7 MMTCO2-e of emissions. BTM leaks occur from stoves, furnaces, water heaters and other gas-using appliances when gas leaks from the appliance as opposed to burning, the CEC's report says, adding that residential buildings leak about 0.5 percent of the natural gas that flows through a meter. Reducing direct building emissions will require large-scale deployment of electric heat pumps, the report says.
Decarbonizing natural gas flows could also help building decarbonization in general, but only so much natural gas can be mixed with renewable gas, the report says. The maximum amount of biomethane, or renewable natural gas, that can be added to a natural gas pipeline system is only about 15 percent of total pipeline gas composition, according to the report. Reaching a 15-percent mixture would require utilities to convert all available biomass resources to biomethane. Furthermore, RNG is significantly more expensive than natural gas, the report says.
Officials must ensure that people who live in hot climates and do not have air conditioning can qualify for state programs that will replace old air conditioners with more efficient ones, participants said during the CEC's Aug. 24 workshop. Officials should also consider that natural gas peaker plants near disadvantaged communities could be fired up more often in order to meet higher electricity loads and thereby worsen air pollution for poorer communities, researchers at the University of California, Berkeley, said (see related story).