Hybrid battery energy storage projects could offer more value to an electricity grid than stand-alone generation and battery storage projects, according to a new study published by Lawrence Berkeley National Laboratory.
A hybrid battery storage project that is paired with a solar generation facility can offer a "significant potential value premium in wholesale grid markets" and increase a project's premium value by $29/MWh in California compared with a project site that contains only solar generation facilities, according to the study.
Hybrid sites can use various resources and configurations, such as solar generation co-located with thermal storage, but the study looked specifically at battery storage facilities with utility-scale solar and wind generation. If a hybrid site has a four-hour battery sized to about 25 percent of the site's photovoltaic generation capacity, the battery will add about $4/MWh to an overall power-purchase agreement price for the combined system. As battery capacity increases to 50 percent and 75 percent of PV generation capacity, price benefits increase to about $10/MWh-delivered and $14/MWh-delivered, respectively, the study found.
But in some situations, stand-alone batteries and renewable generators will be more valuable than hybrid projects, the study says. For example, if a battery on a hybrid project is only allowed to charge from the co-located generator, or if a renewable generator's output has an interconnection limit, then the hybrid project could offer less value than a stand-alone generator or battery without these constraints. A hybrid project could also incur imbalance penalties due to uncertainty associated with the batteries' charge and discharge activities. Hybrid batteries could make it more difficult for an independent system operator to forecast a hybrid system's output, which could mean that project developers choose stand-alone battery and generator options, the study says.
The U.S. currently has about 4.6 GW of hybrid capacity on line, 14.7 GW in development, and 69 GW in interconnection requests. At the end of 2018, most solar hybrid projects in interconnection queues were in the Southwest, while the Northeast had the largest amount of wind hybrid projects in queue. In the Northwest, however, there were more interconnection requests for stand-alone batteries than hybrid projects, according to the study.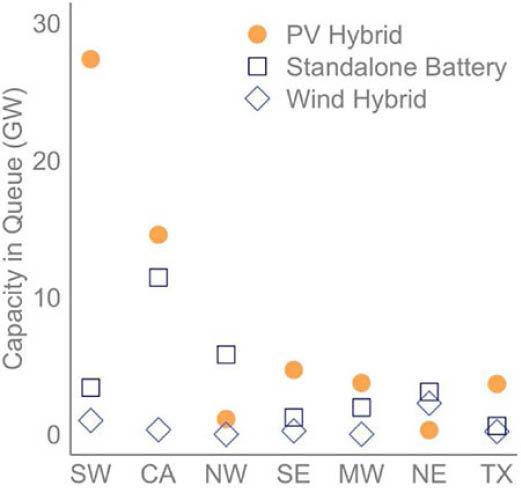 Further research is needed to understand the total cost savings of hybrids, but they currently have some tangible, cost-related advantages, such as needing only one inverter rather than two, which would be required for separate renewable generation and battery plants, LBNL senior scientist and report co-author Ryan Wiser told California Energy Markets in an email.
"You might save on development costs [with a hybrid], and land costs as well," Wiser said. "There are some cost synergies of building the two plants in the same location . . . but more [research] is needed to better understand the size of the cost synergies."
In an email response to CEM, California Energy Commission spokesperson Amber Beck said the CEC does not have a specific policy pertaining to co-location of energy production and storage at this time, but "recognizes that energy storage with renewable generation are key resources to reducing greenhouse gas emissions."
Hybrid systems could benefit from the Federal Energy Regulatory Commission's Order No. 845, which was passed in 2018 and which reduces barriers to interconnection by streamlining the process and allowing new interconnection services at levels below a facility's nameplate capacity, according to the study. Such policies can help avoid "costly and unnecessary transmission system upgrades," the study says. For example, adding a 25-MW battery to an existing 50-MW solar facility no longer requires a study of 75-MW injections: It can instead be studied at the original 50-MW capacity, as long as that injection will not be exceeded, per FERC's order. The order may "enable proliferation of hybrid resources going forward," the study says.