Tens of thousands of Pacific Gas & Electric customers were still without power in Northern California as the week closed out, after a severe winter storm pounded the region with snow directly after Christmas, felling trees and taking down countless power lines and poles.
Downed trees and heavy snow blocked roadways, making it even more difficult for crews to access remote areas where power lines were down. PG&E Chief Operating Officer Adam Wright at a Dec. 31 news conference said customers were "being patient and persevering through a very difficult time," especially low- and fixed-income individuals and those dependent on medical devices.
"We understand this is creating a very difficult situation for many of our customers," Wright said, adding that PG&E crews were "working around the clock." About 2,700 workers had responded, about 1,200 of whom are qualified electric workers, he said. PG&E reached out to 100 other utilities, and received help from the City of Roseville, the Sacramento Public Utility District, Public Service Company of New Mexico and workers from Eugene, Oregon.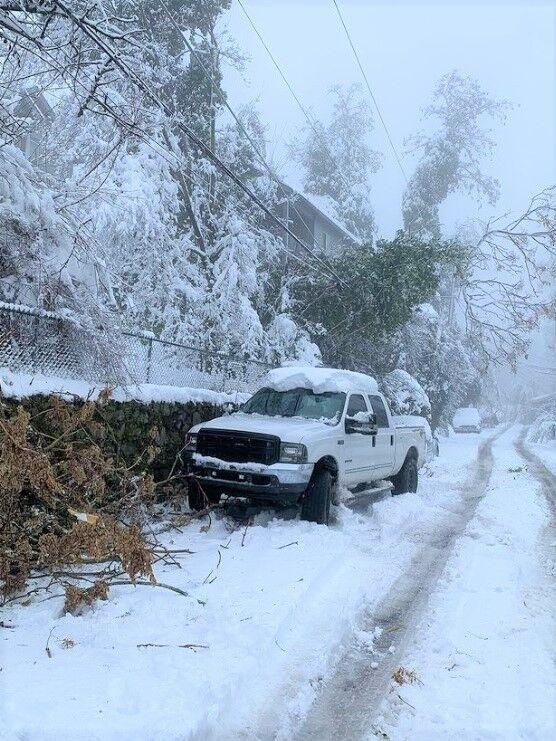 The storm had caused "remarkable damage" to tree canopies, electrical poles, roads and highways, Wright said. Workers were required to use snowcats, helicopters and snowshoes to access some remote areas, he said. He estimated it could be a couple of weeks until power was completely restored.
"I can honestly say this is the worst that I've seen. I haven't seen damage like this in my time in the utility profession, which is over two decades," Wright said.
In the Northern Sierra, about 36,000 customers were out, a number that had been reduced by about 3,000 by the beginning of the week. PG&E prioritized restoration to critical facilities such as hospitals, Wright said, then focused on commercial and residential customers.
PG&E opened community resource centers around the region for customers to access heat and electricity. The utility also said it deployed its geosciences team to monitor potential post-wildfire debris flows from the heavy rains, which could impact PG&E's equipment.
It also distributed power poles, power lines, transformers and other electric equipment from its three materials centers to yards throughout its service territory and activated local and regional operations emergency centers.