There will be less hydroelectric generation in California in 2021 compared with 2020 as a result of drought-related declines in output.
The year-over-year decrease of 3.2 million MWh is a 19-percent drop, according to a new analysis by the U.S. Energy Information Administration.
A July 7 Today in Energy report from the agency states that the drought-based decrease is from 16.8 million MWh to 13.6 million MWh. However, in its July 7 Short-Term Energy Outlook, the EIA projects conventional hydropower in California will be 11.2 million MWh in 2021. This would be a year-over-year drop of roughly 33 percent.
The EIA found that hydroelectric generation in California between January and April was 37 percent less than in the same four months in 2020 and 71 percent less than the same months in 2019.
"California's previous drought, which lasted from 2012 to 2016, led to significant declines in hydroelectric generation and the state's first-ever mandatory water restrictions in 2015," the agency stated in its Today in Energy report. "As drought conditions eased, hydropower conditions improved."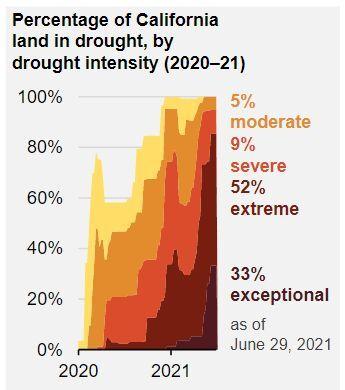 About 33 percent of the state has been categorized under exceptional drought, the most intense drought classification, EIA said, affecting California's water supply level and its hydropower plants.
The report reiterated the expectation that as Lake Oroville water levels continue to drop, the Edward Hyatt Power Plant could be forced off line later this year for the first time since it opened in 1967.
The U.S. Drought Monitor offered little encouragement in its weekly report covering June 29 through July 5, stating that conditions in the Northwest were "among the driest going back to 1895."
Temperatures across the region were as much as 17 degrees higher than seasonal norms. "The excess heat continued to increase evaporative demand, dry out soils and vegetation, and strain water resources," the Drought Monitor said.
Drought level categories in the Northwest moved lower and continued to expand, including in Washington, where all of the state is now experiencing some level of dryness or drought. The U.S. Department of Agriculture reported that data now shows "the state's rangeland and pasture conditions are far worse this year when compared to all other years this century."
Drought also expanded in Idaho and Montana. The states are experiencing crop losses, decreased or nonexistent forage, and grasshopper infestation.
Conditions throughout most of the Southwest remained unchanged this week, according to the Drought Monitor, thanks to some precipitation in Arizona and New Mexico. With 3 to 8 inches of rain in six to 10 days, eastern New Mexico saw heavy rains that "began to make a dent in the long-term drought, while also contributing to flash floods in the area."
Lake Powell remains at 34 percent of capacity, according to the U.S. Bureau of Reclamation's June 28 report. The full Lower Colorado River system is now at 41 percent of capacity, with 24,621 thousand acre-feet of water.
Salt River Project storage is at 72 percent of capacity as of July 8, with roughly 1.4 million acre-feet of water in the system's storage. This is 20 percent less than year-ago levels, when the system was at 92 percent of capacity, according to SRP's daily report.
Almost 59.2 million people in the western U.S. now live in drought conditions, according to the Drought Monitor.