Hydrogen fueling stations are popping up throughout California, but the vehicles they fuel are not arriving in the state fast enough, according to a July report published by the California Air Resources Board.
By 2025, an additional 70,000-100,000 hydrogen-fueled cars will be needed in the state in order to make hydrogen fuel a financially competitive form of vehicle energy, the report said.
Automakers must double or triple the number of hydrogen cars they plan to deploy to the state in order to support the 200 hydrogen fueling stations required in California by 2025, according to the report. The estimated number of vehicles influences financial models for hydrogen more than any other variable, the report said.
Several automakers have provided hydrogen vehicles for sale in California. In 2014, Hyundai released the first fuel-cell electric vehicle in the state; Toyota followed with a model in 2015; Honda in 2016; and Hyundai again in 2018. CARB estimated that about 47,000 hydrogen vehicles will be in California by the end of 2024.
Small hydrogen stations, which provide less than 400 kg/day of hydrogen, are currently having trouble staying profitable, the report said. Stations must overcome large costs for fuel procurement that cause a limited opportunity to generate income through sales.
Stations with a 200-kg/day hydrogen capacity are often found to have a negative rate of return, according to the report, whereas stations that provide 350 kg/day show more guarantee of profits, but still have very low return rates. Industry considers a station capacity of around 400-500 kg/day to be the minimum needed for stations to be profitable.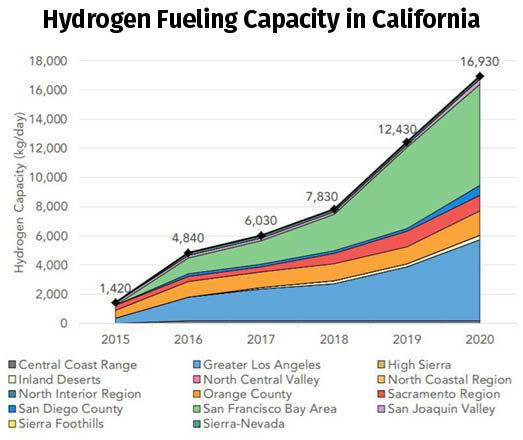 California has 41 hydrogen stations today and is expected to have 11 more by the end of this year. The newest stations are in the San Francisco Bay Area, Sacramento, and the Los Angeles area. The current combined capacity of the stations is about 13,000 kg/day and could go up to about 16,900 kg/day by the end of 2020.
The AB 8 legislation enacted in 2013 provided $20 million in annual funding for light-duty hydrogen refueling stations. CARB said the state needs to use the full budget allocated each year going forward, even though questions remain about how many hydrogen vehicles will arrive in the future.  
In addition, CARB recommended in the report that the California Energy Commission consider raising the minimum renewable content requirement in hydrogen fuel from 33 percent to 40 percent. SB 1505 requires hydrogen fuel to be at least 33 percent renewable hydrogen, and CARB said compliance with SB 1505 has already "largely been assured by the CEC's eligibility criteria and the grant agreements."
CARB and the CEC have a long-term vision of having 1 million hydrogen vehicles and about 1,000 hydrogen refueling stations in California by 2030.