Supreme Court nominee Amy Coney Barrett at her confirmation hearing before the Senate Judiciary Committee signaled that if confirmed, her interpretation of laws would follow the "textualism" championed by the late conservative Justice Antonin Scalia.
The committee scheduled an Oct. 22 vote to report Barrett's nomination to the Senate floor. The panel's majority Republicans are likely to recommend her confirmation.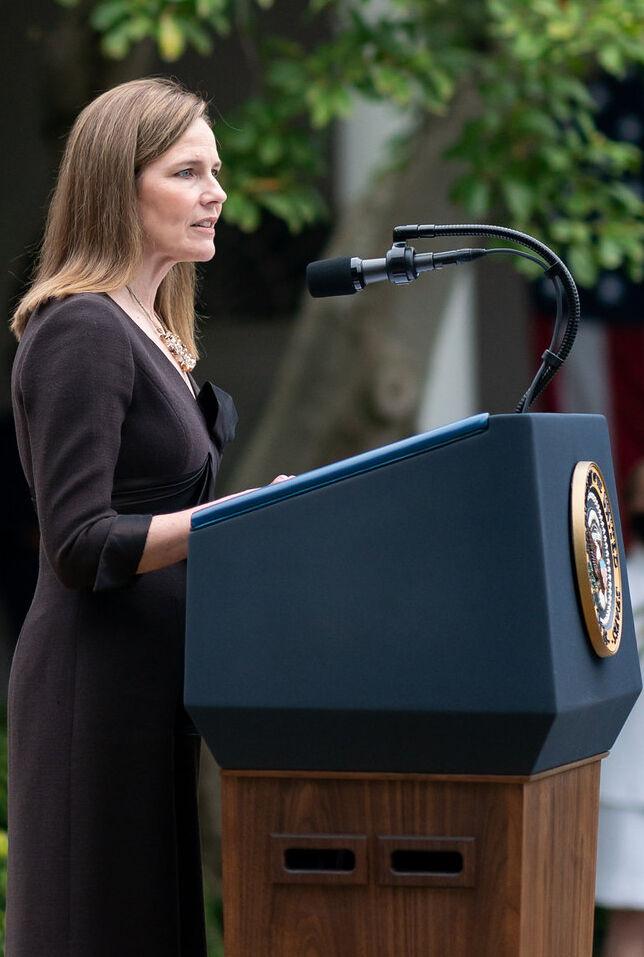 Noting that Scalia's judicial philosophy "shaped me," Barrett in her Oct. 12 opening statement said his approach was "straightforward: A judge must apply the law as written, not as the judge wishes it were."
On administrative law cases, Barrett said that in determining whether agency regulations are lawful, "my own approach to it would be textualism. And so my approach to the language, the intent of the statute, is best expressed through the words, so looking at what the words would communicate to a skilled user of the language."
Barrett spoke in response to questions from Sen. Joni Ernst (R-Iowa), who brought up Barrett's 2018 ruling throwing out a U.S. Army Corps of Engineers determination that a 13-acre wetland in Illinois was protected by the Clean Water Act. Barrett ruled as part of a three-judge panel with the U.S. Court of Appeals for the 7th Circuit.
Barrett's judicial philosophy could have implications for future cases involving "Chevron deference," the doctrine dating to a 1984 Supreme Court ruling that gives administrative agencies leeway to interpret ambiguous statutes when drafting regulations.
If confirmed by the Senate, Barrett would join a court with conservative justices skeptical of Chevron deference.
Under questioning by Sen. Kamala Harris (D-Calif.), the Democratic vice presidential nominee, Barrett said that "if a case comes before me involving environmental regulation, I will certainly apply all applicable law, deferring when I'm required to." Under the Administrative Procedure Act, courts are required to defer to agencies' findings of fact "if they are supported by substantial evidence," Barrett said.
A case that legal observers have pointed to in speculating about Barrett's possible impact on the high court is its 2007 ruling that the Clean Air Act authorizes the Environmental Protection Agency to regulate greenhouse gases if it finds they endanger public health and welfare, which EPA did in 2009.
Asked by three senators Oct. 13 and 14 about her views on climate change and its causes, Barrett declined to give an opinion. In response to Harris, she said climate change is a "very contentious matter of public debate."
"I don't think my views on global warming or climate change are relevant to the job I would do as a judge," Barrett told Sen. Richard Blumenthal (D-Conn.). She added that she is "not really in a position to offer any level of informed opinion."
In response to a question from Sen. John Kennedy (R-La.), Barrett said, "I've read about climate change. I'm certainly not a scientist. I've read things about climate. I would not say that I have firm views on it."
Evan Bernick, executive director of the Georgetown Center for the Constitution, wrote in a 2018 Yale Journal of Regulation article that, based on her past writings, Barrett might take a narrow approach to giving administrative agencies deference. At the same time, however, he said "it would be wrong to infer" that her textualism would lead her to conclude there is only "one linguistically 'right' answer in every litigated case or that extratextual normative values are irrelevant to interpretation."
Bernick also wrote that Barrett is "an avowed champion of judicial restraint—understood as judicial deference to decisions by the political branches that aren't clearly unlawful."
In a 2013 Texas Law Review article, Barrett noted, however, that "it makes sense that one committed to a textualist theory would more often find precedent in conflict with her interpretation of the Constitution than would one who takes a more flexible, all-things-considered approach."
How closely Barrett would adhere to precedents was an issue that came up repeatedly during the hearing. In his opening statement, Sen. Chris Coons (D-Del.) raised concerns about Barrett's "approach to reviewing, reconsidering, and possibly overturning long-settled cases."
Kennedy criticized the growth of "the administrative state, the bureaucracy as some call it. It's the giant rogue beast that enjoys power that only kings once enjoyed. Members of this administrative state write their own laws, they interpret their own laws."
FERC Proposes Carbon-Price Jurisdiction Policy
The Federal Energy Regulatory Commission on Oct. 15 proposed a policy statement clarifying that it holds jurisdiction over organized wholesale power market rules that incorporate state-determined carbon prices.
In remarks at the commission's monthly meeting, FERC Chairman Neil Chatterjee said the proposal would assure organized markets that carbon prices would not be a "dead letter on our doorstep."
Chatterjee said his "overarching takeaway" from FERC's Sept. 30 carbon-pricing technical conference was that "if states continue to pursue carbon pricing—and I fully expect this to be the case—[regional transmission organizations] and their stakeholders can and should [emphasis in original] explore the feasibility and benefits of market rules that incorporate the state-determined carbon price. And when they do, they should have confidence that those proposals will not be a dead letter on our doorstep . . . confidence that we recognize the benefits that such proposals, if properly designed, could bring to our markets . . . and confidence that we will bring our pragmatic, market-based lens to this conversation."
The proposal drew praise from the American Wind Energy Association. "An overwhelming consensus emerged at the [Sept. 30] conference that carbon pricing in markets is a powerful and cost-effective tool to drive down emissions and achieve state policy goals, while preserving the benefits of competition," Amy Farrell, AWEA's senior vice president for government and public affairs, said.
One of the top issues that came up at the conference was the scope of FERC's jurisdiction over market rules that incorporate state-set carbon prices. At the conference, Mark Rothleder, the California Independent System Operator's vice president for market policy and performance, noted that FERC has accepted CAISO's revised rules accommodating California's greenhouse gas-reduction programs.
Chatterjee emphasized that the proposal is not "an effort by FERC to take proactive action to set a carbon price. I may sound like a broken record here, but I'll say it again: the [Federal Power Act] does not give us authority to act as an environmental regulator."
He also said the proposal would involve FERC's consideration of filings under the Federal Power Act's Section 205, not Section 206. Section 205 covers utility filings that affect rates, terms or conditions of FERC-jurisdictional services and charges. In Section 205 filings, the burden of proof is on the filing party to show that their proposal is just and reasonable. Section 206 covers complaints alleging that filings are not just or reasonable, or that they are unduly discriminatory or preferential.
FERC will take comment on the proposal for 30 days, with reply comments due 15 days afterward.
FERC Approves Retiring 18 Reliability Standards
The Federal Energy Regulatory Commission on Oct. 15 approved retirement of 18 reliability standards requested by the North American Electric Reliability Corporation.
In a Federal Register notice, FERC said it agreed that the 18 standards provide little or no reliability benefit, cover administrative matters related to commercial or business practices, or are redundant with other standards.
However, FERC remanded to NERC the proposed retirement of a standard requiring generation and transmission owners to provide facility ratings to transmission planners, owners and operators. The commission raised concerns that retirement of the standard could result in a reliability gap.
In comments submitted to FERC, the Bonneville Power Administration said the standard should be kept.
DOE Awards Funds to TerraPower for Fast Reactor
The Department of Energy on Oct. 13 awarded $80 million to Bellevue, Washington-based TerraPower, one of two recipients receiving the same amount to demonstrate advanced nuclear power reactors ready to operate within seven years.
The other recipient was Maryland-based X-energy.
TerraPower's funding would be used, in partnership with GE Hitachi, to demonstrate the Natrium reactor, a sodium-cooled fast reactor with molten-salt heat storage.
"The reactor is designed to integrate into grids with high penetrations of wind and solar and offers a significant improvement in cost over conventional nuclear technologies," TerraPower founder and Chairman Bill Gates said in a statement.
TerraPower also said it would work with uranium supplier Centrus Energy to build commercial-scale enrichment capacity for producing high-assay, low-enriched uranium fuel, which today is not produced commercially in the U.S.
X-energy plans to build a four-unit, high-temperature, gas-cooled reactor.
Trump Moves to Kill Bifacial PV Tariff Exemption
President Donald Trump on Oct. 10 moved to eliminate a tariff exemption for imported bifacial solar-photovoltaic panels.
In a proclamation, Trump determined that exempting bifacial PV panels from tariffs "has impaired and is likely to continue to impair the effectiveness" of import restrictions on crystalline PV products.
Under the proclamation, the exemption is due to end Oct. 26, unless a court intervenes.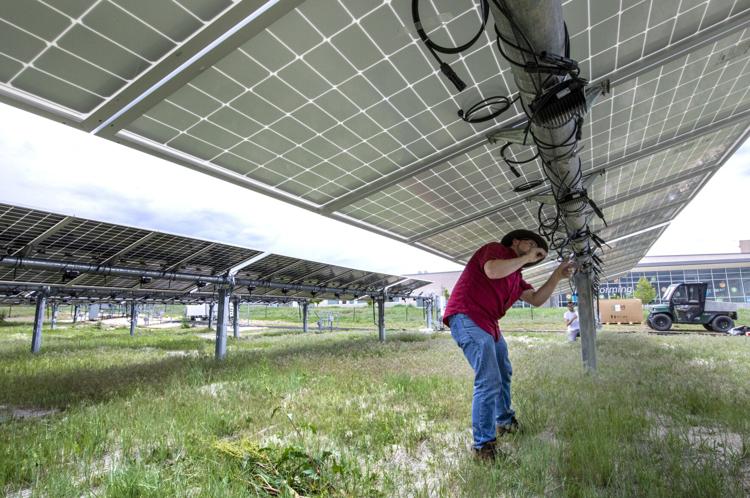 Trump in 2018 imposed four-year tariffs on imported crystalline PV products, starting at 30 percent and scaling back 5 percent per year. His Oct. 11 proclamation ordered a fourth-year reduction from 20 to 18 percent instead of 15 percent.
In addition, Trump authorized the U.S. Trade Representative to request an International Trade Commission study of extending the tariffs beyond their four-year duration.
Trump's actions drew criticism from the Solar Energy Industries Association, which hinted at a legal attempt to block the change.
"The Trump administration decision this weekend to expand solar tariffs and evaluate an extension of those tariffs counters critical needs of our country right now, jeopardizing jobs, economic recovery in the face of a pandemic and a clean environment. Aspects of this policy may also run counter to law," SEIA CEO Abigail Ross Hopper said in a statement.
Bifacial solar panels have been subject to on-again, off-again tariffs on crystalline PV products. On June 30, 2019, the USTR agreed to a tariff exemption, but three months later sought to lift the exclusion. The Court of International Trade issued an injunction against the USTR's action. Earlier this year, the USTR again sought to lift the exemption, but the court rejected a motion to dissolve its injunction.
A March report from the ITC concluded that "apparent U.S. consumption of bifacial modules is expected to increase substantially in 2020-2022." The report documented a surge in bifacial module imports in 2019.
IEA Sees Solar Surge, Calls for Grid Investment
Solar energy is likely to be "the new king" of global power markets in the coming decade, the head of the International Energy Agency said Oct. 13 upon the release of IEA's annual World Energy Outlook.
The report, however, says solar growth should be paired with "robust investment in electricity grids."
"Without enough investment, grids will prove to be the weak link in the transformation of the power sector, with implications for the reliability and security of electricity supply," IEA said. The report projects a need for new transmission and distribution lines 80 percent higher over the next decade compared with the previous 10 years.
Meanwhile, the Energy Information Administration's latest international energy outlook, released Oct. 14, includes a scenario in which Asia generates more than half its electricity supply from renewables by 2050.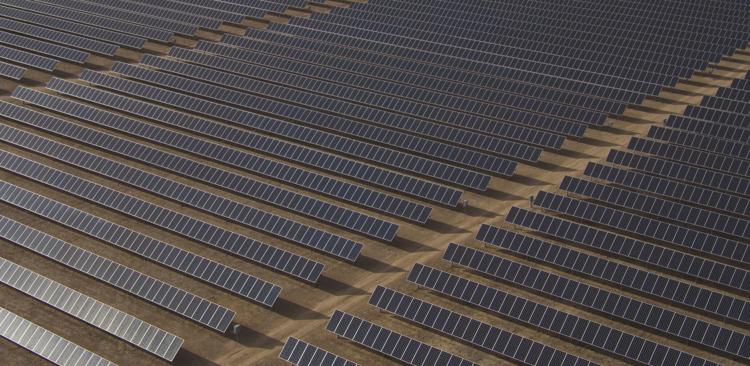 IEA's report says the coronavirus pandemic has upended the global energy sector this year, cutting demand 5 percent, decreasing energy-related carbon dioxide emissions 7 percent, and reducing energy investment 18 percent.
Global energy demand is projected to return to pre-pandemic levels by 2023, but if the pandemic is prolonged and the resulting economic downturn deepens, the return to pre-pandemic demand would not happen until 2025, IEA said.
IEA Executive Director Fatih Birol said the agency projects significant growth for solar and wind energy. "I see solar becoming the new king of the world's electricity markets. Based on today's policy settings, it is on track to set new records for deployment every year after 2022," he said.
Birol added that if governments implement policies in line with IEA's "sustainable development scenario," the growth of both solar and wind "would be even more spectacular—and hugely encouraging for overcoming the world's climate challenge."
In IEA's "stated policies" scenario reflecting current policies and the pandemic coming under control in 2021, renewables meet 80 percent of growth in global electricity demand by 2030, with solar as the main driver, followed by both onshore and offshore wind.
The stated-policies scenario is one of four laid out in the report. The others are delayed recovery from the pandemic, sustainable development and net-zero GHG emissions by 2050.
The pandemic's economic impacts have put a damper on oil and natural gas investment, IEA said. "The U.S. shale industry has met nearly 60 percent of the increase in global oil and gas demand over the last 10 years, but this rise was fueled by easy credit that has now dried up," the report says.
Since 2019, investment in oil and gas supplies has dropped by one-third, "and the extent and timing of any pickup in spending is unclear," IEA said.
The report says continued economic weakness would keep growth in GHG emissions down, but adds that "low economic growth is not a low-emissions strategy. Only an acceleration in structural changes to the way the world produces and consumes energy can break the emissions trend for good."
Bullock Filing Questions Pendley Compliance
Montana Gov. Steve Bullock on Oct. 9 filed a court notice putting into the record published comments from William Perry Pendley that the filing said "bear on federal defendants' compliance" with a Sept. 25 ruling that Pendley unlawfully acted as the Bureau of Land Management's director for 424 days.
Bullock's notice, filed with U.S. District Judge Brian Morris of the Montana District, included a copy of an Oct. 8 article in the Powell (Wyoming) Tribune that quoted Pendley as saying, "I'm still here, I'm still running the bureau," and "I have the support of the president. I have the support of the secretary of the Interior and my job is to get out and get things done to accomplish what the president wants us to do."
Montana's Department of Natural Resources and Conservation joined Bullock in filing the notice.
The article quoted Pendley as saying Interior Secretary David Bernhardt's granting of authority for him to run BLM was nothing new. "Republicans and Democrats, over the decades, have said they will designate who's the chain of command, as exercising the authority of the assistant secretary, or the director, so that person has the authority to sign something, and we can move on with life."
Pendley's official title at BLM is deputy director for programs and policy.
In his Sept. 25 decision, Morris ruled that the grant of authority for Pendley to serve as BLM's de facto acting director violated the Constitution's appointments clause requiring Senate confirmation of senior Executive Branch officials. Morris also directed parties to the case to file briefs on which of Pendley's actions during the 424 days should be set aside.
In an Oct. 5 brief, Bullock and the Montana natural resources agency asked the court to set aside management plans for the Missoula, Lewistown and Miles City field offices.
The brief said other actions falling under the BLM director's purview could be subject to rescission also, noting the director's "exclusive authority to administer the bureau's regulations regarding the exploration, development and production of oil and gas, coal and other minerals under the bureau's leases."
Bullock's brief argued that Pendley "almost certainly exercised this authority" to set priorities and approve oil and gas leases inside and outside sage grouse habitat, "including actions similar to those that have been struck down by this court and other courts."
BLM defended the resource-management plans, saying they are "a boon for the economy of Montana—and continue to be widely supported by the public."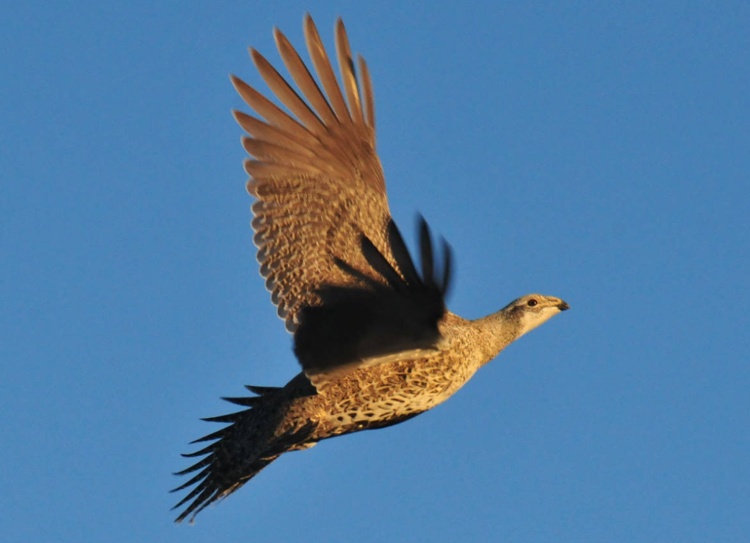 DOE Opens Dishwasher Standards Review
The Department of Energy on Oct. 14 opened a review to determine whether updated efficiency standards for dishwashers are warranted.
Energy and water efficiency standards for the appliances were last updated in 2012.
Comments on the review are due by Dec. 28.
DOE also is considering establishing a separate product class for dishwashers with one-hour "short cycles," which if approved would have their own standards.
EPA Allows Startup, Shutdown Exemptions
The Environmental Protection Agency on Oct. 9 approved a guidance memo allowing states to exempt power plants and other industrial facilities from meeting air quality requirements during startups, shutdowns and malfunctions.
Under the guidance, states could allow exemptions in the implementation plans they draw up for meeting ambient air quality standards.
The memo reverses 2015 guidance that exemption provisions are not consistent with Clean Air Act requirements for maintaining the standards.
Trump Establishes 'Trillion Trees' Council
Trump on Oct. 13 established the One Trillion Trees Interagency Council to coordinate federal actions in planting and conserving trees.
In an executive order, Trump directed the council to find ways of using "existing authorities" and federal funding to further tree planting and conservation projects. The order notes that trees sequester carbon, but does not otherwise mention climate policy.
On Jan. 21 this year, Trump joined the U.S. to the World Economic Forum's One Trillion Trees Initiative.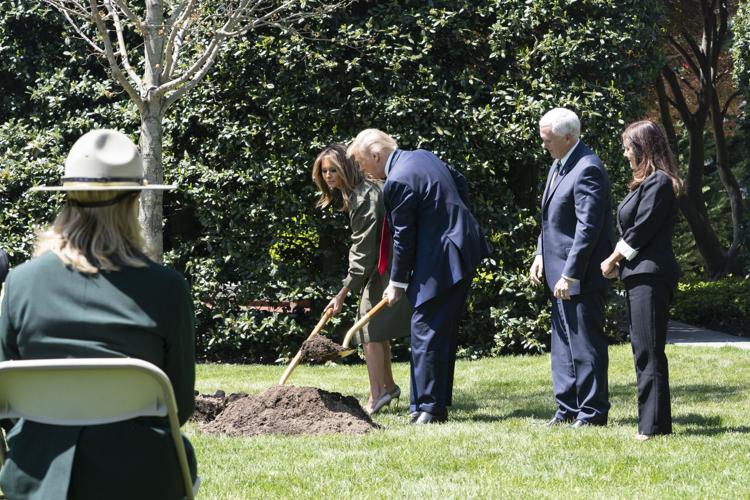 Trump Orders Water Policy Coordination
Trump on Oct. 13 established a "water policy subcabinet" to coordinate federal planning and policies aimed at boosting water storage and conservation, improving water quality, and carrying out drought response in the Colorado River Basin.
The subcabinet, to be co-chaired by the EPA administrator and the Interior secretary, also was tasked in Trump's executive order with examining "operational changes and opportunities to update dam water-control manuals for existing facilities during routine operations, maintenance and safety assessments.
R.D. James, assistant secretary of the Army for civil works, said that "streamlining and reducing duplication between federal agencies will benefit the American people by the coordinated modernization of our nation's water infrastructure and water resource management."
Lantz Named Palo Verde Resident Inspector
The Nuclear Regulatory Commission named Eric Lantz as resident inspector at the Palo Verde nuclear power plant in Arizona, the agency announced Oct. 14.
Before joining the NRC last February, Lantz was a Navy submarine officer.