The water elevation at Lake Oroville dropped to levels that forced the California Department of Water Resources to take the Hyatt power plant off line Aug. 5.
The lake's elevation was 641.39 feet as of midnight, Aug. 5. The reservoir had 860,338 acre-feet in storage, which is 24 percent of capacity.
The Hyatt power plant is not able to generate power once the lake level falls below approximately 630 to 640 feet, according to DWR.
This is the first time the plant has been taken off line, but it was not unexpected. Behzad Soltanzadeh, chief of utility operations for California's State Water Project, in mid-June forecast the plant would be off line in August or September.
"DWR anticipated this moment, and the state has planned for [Hyatt's] loss in both water and grid management," DWR Director Karla Nemeth said in an Aug. 5 news release. DWR has been in regular communication about the status of Hyatt with the California Independent System Operator and the California Energy Commission, and steps have been taken in anticipation of the loss of power generation, the release says.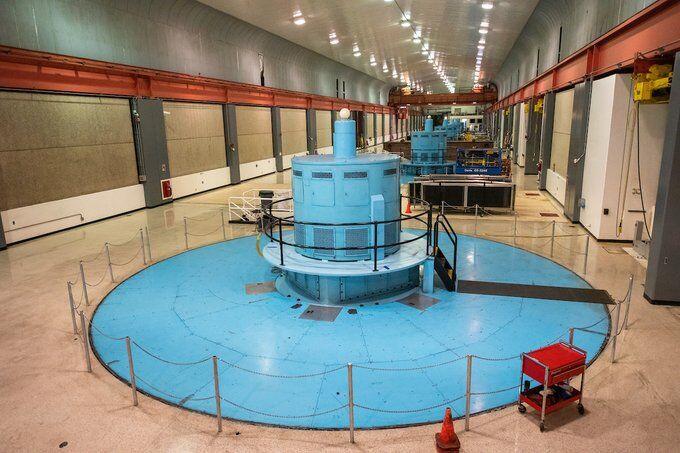 Nemeth said the agency will continue working "to preserve as much water in storage as possible." DWR intends to release some water from the dam's base to maintain river temperature requirements and outflows to the Feather River.
Soltanzadeh previously told California Energy Markets that the state would continue operation of its Thermalito plant, which is located downstream from Hyatt, even when Hyatt is off line. "Because we still must make releases down the river for water supply, environmental and fishery needs, health and safety, and Delta outflows to prevent salinity intrusion, Thermalito will continue to have limited generation," he said.
The Thermalito afterbay water levels typically remain at between 125 and 135 feet of elevation. Water in this section of the complex is supplied by Lake Oroville and is used downstream.
Lake levels were high enough to avoid shutting down Hyatt in the dry years of 2014-2015, and DWR was able to maintain minimal generation during the drought of 1977 (see CEM No. 1646).
Following DWR's recent announcement, U.S. Rep. Doug LaMalfa (R-Calif.) said in a statement, "This dam was designed to provide water and power through five years of drought. Governor Newsom's administration mismanaged and wasted so much water that Oroville ran out of water in just a year and half . . . The government has used our water for its pet projects like the delta smelt, a fish no one has found a single one of in over three years. Yet families and farms have seen dramatic cutbacks in their water availability. Mismanagement of our water means we lose 450 megawatts of power, recreation, drinking water, water for farms and water for fall run salmon."