It was the night after Christmas, and as I gazed out the window from my room on the third floor of the Gold Miner's Inn in downtown Grass Valley, I could see a cascade of falling snowflakes in the glow of the streetlight below. The snow was coming down really hard. And I knew if it was snowing this hard here at about 2,500 feet, the Sierra Nevada that rose thousands of feet to the northeast, where I live at about 5,000 feet, would be getting hammered.
About 6:30 a.m., I awoke and looked out the hotel window again and there was no more snow reflected in the streetlight, and not even a streetlight—just blackness filling the windowpane. I realized the power was out across town, which was not unexpected. In fact, the power had gone out at the same hotel on another recent visit.
I got dressed in my long johns, clothes, winter jacket and boots and made my way to the hallway, where someone had placed glow sticks along the walls to guide us to the stairwell. But it was insufficient lighting, so I pulled out my hand-crank flashlight that I keep in my laptop bag (because, Grass Valley).
A little way down the blackness of the hall I encountered a family with a few young kids emerging from a room, and the father declined my offer to light their way. But then they followed me down the darkened stairwell in the flashlight's glow anyway.
When I first moved here four and a half years ago, my first neighbor, a decades-long resident named Walt, told me that it "doesn't snow in Grass Valley anymore." But nature's cycles work in mysterious ways, and now Grass Valley and its sister city, Nevada City, were set for what's being called a "50-year storm" that would leave tens of thousands of people without electricity for days, or possibly weeks, on end. Things were about to get very gritty in Nevada County.
Once in my truck and leaving the parking lot, I could see that no streets had been plowed and cars were having difficulty making it through the snow. I put my truck in 4L and headed to my ex-wife's house, where I knew she and my seven-year-old daughter would be without electricity.
After failing to get up their driveway in the snow, even with a 4WD truck, I parked in the road and hoofed it up the hill. I soon found my daughter, Ella, playing in the snow with the two neighbor boys, her excited yells filling the air. The neighbor, her old teacher at her former school, also had no power or heat, nor did most of heavily forested Alta Sierra.
At my ex-wife's house, the landlord was already there, having traveled from Folsom, and had gotten the gas heater and stove going, cleared branches from the driveway and was now standing on the roof, clearing snow. That's the difference between a good landlord and a bad one.
Since everybody was safe and relatively comfy, I set out, needing computer access. I was hoping to head down to Auburn, which I could see online had power. But 49 South was shut down, with California Highway Patrol officers blocking the road. I tried La Barr Meadows Road out of Alta Sierra, but ended up turning around because of a fallen tree blocking the road. Heading back out, I could see a steady line of cars and trucks heading the way I had just come, having been diverted from 49 just as I had. I gave them the "turn around" hand signal as I passed, which some noticed and some didn't.
That left Route 174, which runs to Colfax where it hooks up with Interstate 80, as the only option, so I gave it a shot. A couple of times on the heavily snowy road I stopped to snap photos of power lines precariously snagged by trees. I made it over the 12-mile, winding, hilly road to Colfax, but later learned that 174 was shut down soon after I traversed it. Every major road out of Grass Valley was now sealed off, stranding travelers, with the entire city as well as Nevada City out of power.
I made it to a restaurant in Auburn, where the warmth of central heating, the glow of flatscreen TVs and a happy-hour beer and hot food were a return to normalcy. I saw a friend from Grass Valley and we talked over the events of the day.
After seeing on California Department of Transportation Twitter that 49 had reopened, I made a run for the mountain and made it home in driving snow. CalTrans workers were stationed at the bottom of the mountain, only allowing local residents through with chains or snow tires and four-wheel drive.
The property where I live runs on an off-grid system, with solar/battery and large propane generators, so I would keep power the whole time. However, I had no internet or phone service, which is always the case.
In the ensuing days, the storm drama played out. At my daughter's house, the power would be out for six days, restored the following Saturday. Many others in Grass Valley and the surrounding area would be without power much longer, with reports of several weeks with no power in the forecast.
In the Sierra Nevada, the situation was dire for some. With no electricity and heat, elderly populations suffered. On YubaNet, I was sad to read the accounts of people suffering without power and heat, especially the elderly.
On Dec. 29, making my way in my truck through downed trees and snow on Route 20, I was flagged down by a group of three young people, including a woman who looked to be in her twenties.
Would I give her a ride into Grass Valley to get some critical medication? Yes. Hop in.
The pharmacy in Grass Valley had generators and electricity, but the rest of the town was dark. The young woman asked me to drop her at the historic Holbrooke Hotel downtown; power was out there, too.
Not wanting to leave her stranded in Grass Valley with no power, I told her I'd drive her to Auburn to meet her friend, who would be taking her to San Francisco, and so we did (ending up at the same happy hour). At the bar, she told me the story of being stuck with seven people for several days in a house on the mountain with no power, no heat and no water or working bathrooms. She was glowing to be back in civilization.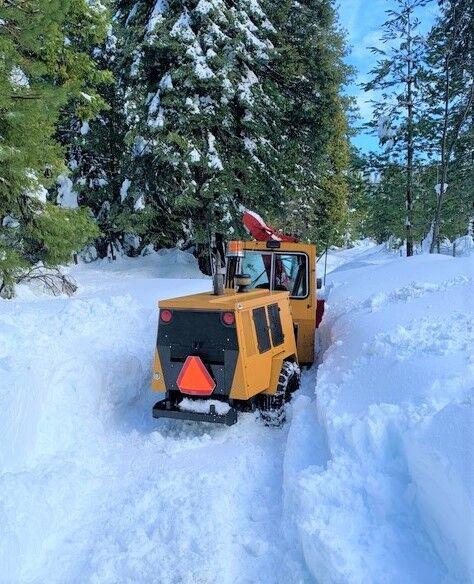 I had my own problems, as our large diesel-powered snowplow had gotten stuck. Our driveway is about a quarter-mile long, so I knew if I didn't get the plow out and get the driveway plowed, I might never get it done, and nobody would be coming in or out until spring. It took trips up and down the mountain over two days and continually pounding at the snow with a pick and shovel to dig out the plow.
One day Ella came with me, and had a ball digging a cavern in the snow while I labored on the plow. After I verbally voiced my frustration at another failed attempt to get the plow out, she gave me a perplexed look.
"Remember, Daddy, this is all fun," she said (nice reminder).
But after a few hours of of digging with a pry bar and shovel (and a couple of hours unsticking a loose tire chain from a freezing snowplow axle) the plow came free.
I was grateful to finally dig a path up the driveway, tight and slippery as it was. The plow groaned with effort as I attacked the massive four-foot wall of snow, which required taking off the top layer, backing up, and going lower each time. If I tried to walk through the snow, it was nearly up to my waist. At least we are plowed, until the next snowstorm, which is sure to happen soon.
This is only the first storm of the season, but I learned a few things. First, preparation is huge, but you can never prepare perfectly. There are always changing circumstances and another piece to the puzzle you must figure out. It also took a great deal of persistent effort to keep equipment operational. I saw many neighbors helping each other getting cars unstuck, shoveling snow or sawing up downed trees that were blocking homes and driveways.
I also wondered: How will the population in the Sierras that currently relies on generators, chainsaws, heavy equipment, 4WD vehicles and other implements—nearly all of them gasoline-powered—pull off the same miracles in an "all-electric" world? The California Air Resources Board's small-engine ban takes effect in 2024 (see CEM No. 1664).
I can't help but note that the author of the legislation that led to the ban, Assm. Marc Berman (D-San Francisco), represents Silicon Valley, where huge banks of diesel generation are being built out to power data centers (and where there is little need for small generators, chainsaws, snowplows and all the other equipment that kept roads passable and people alive during the storm of late 2021). The law mandates emissions restrictions on equipment such as generators by 2024, and zero emissions by 2028.
Let's hope that there are major improvements to electric grid reliability in remote areas, or massive strides in battery and zero-emissions technology, by then. Someone's life might depend on it.